Related: ice skating, skating, skating rinks, arenas, outdoor rinks, indoor rinks, Brooklyn, NY, children, kids, families, outdoor activities, winter activities, sports, recreation,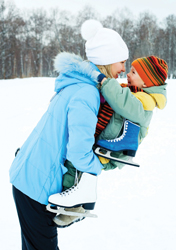 Time for some winter family fun! Lace up your skates and hit the ice at these rinks in Brooklyn and nearby.

Abe Stark Rink is located along the Coney Island Boardwalk at Broadway and West 19th Street. Open Saturday-Sunday, 1-4pm. $8; $5 skate rental. All skaters must sign a Risk of Ice Skating/Hockey Activity Agreement. Those under 18 must have a written consent form signed by parent or guardian. Agreement forms are available at the rink. A parent must sign the agreement form in the presence of a rink employee or parent's signature must be notarized. 718-946-6536.
Aviator Sports and Recreation is open daily, year-round, for public skating. Monday and Wednesday 11am-3:50pm; Tuesday and Thursday 11am-4pm; Friday 11am-4pm and 7-11pm; Saturday 2:30-6:30pm and 7-11pm; Sunday 12-5pm. Call for holiday schedule and hours. $8 ages 12 and older; $6 child; $5.44 skate rental. Floyd Bennett Field, 3159 Flatbush Avenue. 718-758-7500. www.aviatorsports.com/public-skating.
Skate for free at the Kate Wollman Rink in Prospect Park on your birthday (with photo ID), and receive free popcorn and hot chocolate. The rink is open daily until March 15. Monday 8:30am-2pm; Tuesday 8:30am-5pm; Wednesday8:30am-3pm; Thursday 8:30am-6pm; Friday 8:30am-9pm; Saturday 10am-1pm, 2-6pm, 7-10pm; Sunday 10am-1pm, 2-6pm. Hours are reduced during the holidays, December 24-January 3 (check online or call for hours on those days). $5; $3 ages 14 and under; $6.50 skate rental. Half-price admission every Friday except January 1. Cash only. Prospect Park, East Drive near Parkside and Ocean Avenue entrance, or Lincoln Road/Ocean Avenue entrance. 718-287-6431. www.prospectpark.org/visit/places/wollman_rink.
Staten Island War Memorial Ice Skating Rink is open through March 28. Friday 4-10pm; Saturday 12:30-10pm; Sunday 12:30-4:30pm. $8; $6 children 12 and under and seniors 60 and older. $5 skate rental. Clove Lakes Park, Victory Boulevard (west of Clove Road). 718-720-1010 or 718-720-1014.
Also see our Round Up of Rinks in Manhattan.
More News & Tips: Sports Articles
Family-Friendly Bowling Alleys in the NY Metro Area
Help Your Child Choose the Right Extracurricular Activities
Rockland Soccer Academy to Offer Lessons in New City
Triathlons for Kids: How to Get Them Race-Ready
Where to Find New York-Area Mini Golf Courses

Be a good fellow parent and share this with a friend who would be interested
Local News & Tips: Sports Sponsors
See Our News & Tips: Sports Directory