Related: children, kids, toddlers, Bend and Bloom Yoga, mom, Cobble Hill,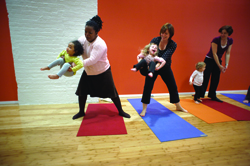 Moms who find it hard to squeeze yoga into their busy schedules can bring their toddlers along. The spring semester at Bend and Bloom Yoga, in Cobble Hill, offers additional classes in Tots Yoga. Babies who are walking and up to 3 years old will enjoy animated animal poses and games that help toddlers recognize patterns and improve motor coordination. Offered on Wednesdays at 10am and Fridays at 9:30am or 11am. $18 for drop-ins; discounts available for series enrollment. Additional yoga classes for kids ages 3-5 and 7-10 available. Call 347-987-3162. For complete schedule, go to www.bendandbloom.com.
---
Get Your FREE Indoor Activity eGuide!
---
More Women's Health Articles
Wanderlust Yoga In The City Offers a One-Day Yoga, Music, and Community Event in NYC
New York City Mom is First Winner of Tasti D-Lite's Healthy Habit Search
Easy Tips To Help You De-Stress
Stay Healthy And Comfortable During Pregnancy
A Parents' Guide to Raising Healthy Kids

Be a good fellow parent and share this with a friend who would be interested
Local Women's Health Sponsors
See Our Women's Health Directory