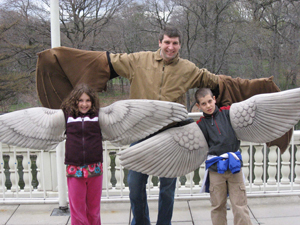 Embrace the warmer season by paying a visit to a zoo or nature center in Brooklyn, many of which offer outdoor, nature-based activities for kids and adults alike. There's already plenty in bloom at area botanical gardens, with sights and smells for all to enjoy. If you're looking for something less structured, leave your plans behind for the day, pack up the family, and head to the park where you can lay out a picnic, play a game of catch, or just soak in some rays (don't forget the SPF!) on the newly sprouted grass.
Our guide has all the information you need for a fun family outing to celebrate the great outdoors in Brooklyn. So, if you've thawed out enough, put a spring in your step and hop to some seasonal fun at any one of the locations below.
1000 Washington Avenue
718-623-7200
Hours: Tuesday-Friday 8am-6pm; Saturday-Sunday 10am-6pm; closed all Mondays except Memorial Day (10am-6pm). Price: $10; $5 seniors and students; free children under 12.
A 52-acre "living museum" with various plant collections and special gardens, BBG strives to teach visitors the importance of plants in our everyday lives. Visitors can see the magnolia trees in bloom on Magnolia Plaza, weeping cherries in the Japanese Garden, Sekiyama blossoms on Cherry Esplanade, and trout lilies in the Native Flora Garden. Check out www.bbg.org/bloom for an up-to-date view through photos of what's in bloom. BBG also hosts nature based educational programs and camps for young children and their caregivers from April through August. Registration is now open.
Remsen Street to Orange Street, along the East River
Hours: Open daily. Price: Free.
This scenic/historic walking area features views of Staten Island, Governor's Island, the Statue of Liberty, Ellis Island, South Street Seaport, Fulton Fish Market, and the Brooklyn Bridge. From April through September, see spring and summer trees and flowers in bloom, featuring azalea, daffodil, forsythia, Japanese skimmia, lily-of-the-valley, tulip, coral bells, and more.
Bordered by Myrtle Avenue, Cumberland Street, and DeKalb Avenue
718-722-3218

Hours: 9am-5pm daily. Price: Free.
At this park, visit the Prison Ship Martyrs Monument which towers over the crypt where more than 11,000 people that died in the Revolutionary War are buried.
718-965-8999 (events hotline)
A 585-acre park, including a 90-acre meadow, 60-acre lake, and Brooklyn's only forest. Hosts four unique hiking trails that vary in difficulty and length; trail guides are available at the Audubon Center.
- The Audubon Center at the Boathouse, dedicated to wildlife preservation and natural education, houses the park's Visitor Center on the first floor, including a café and interactive exhibits, along with the Con Edison Discover Nature Theater and the Verizon Learning Lab on the second floor, where you can see live animals and more exhibits. It also hosts interactive, nature based programs for kids and adults. 718-287-3400.
- Lefferts Historic House is located in the park's "Children's Corner," near the Carousel and Zoo (see below), and encompasses a working garden, historic artifacts and documents, as well as period rooms and exhibits. Visitors can engage in pre-Colonial activities such as candle making, sewing, butter churning, and children can engage in games played by their peers more than 100 years ago. 718-789-2822.
Hours for both: Saturday and Sunday 12-4pm. Price: Free.
450 Flatbush Avenue
718-399-7339
Hours: Monday-Friday 10am-5pm; weekends and holidays 10am-5:30pm (April-October). Price: $8; $6 seniors; $5 children ages 3-12; free children younger than 3.
Meet the zoo's mascots, a troop of Hamadryas baboons, and watch their antics; experience various types of animal habitats, including gardens, marshes, and scrubland; visit the Barn & Garden area, where you'll find farm animals like sheep, cows, and llamas; and watch some high-fiving sea lions catch fish on the fly at 11:30am, 2pm, and 4pm daily in the Sea Lion Court.
3302 Avenue U
718-421-2021
Hours: Thursday-Tuesday 11am-5pm. Price: Free.
The center features a walking trail that runs along Burnett Street, which includes an observation deck overlooking the marsh where visitors can see migratory birds, ducks, and falcons. The center also houses exhibits and aquarium tanks for viewing.
Along Washington Avenue, between DeKalb and Lafayette Avenues
Hours (April through September): Open daily. Price: Free.
The second most blossom-filled park in Brooklyn, Underwood features daffodil, forsythia, flowering dogwood, mountain laurel, rose, butterfly bush, black-eyed Susan, and more, in season.
See our complete guide: Zoos, Nature Centers, and Botanical Gardens in the New York Metro Area