Congregation Beth Elohim in Park Slope has donated and delivered more than 65,000 meals to victims of Hurricane Sandy since the storm struck late last October.
As of May 5, Congregation Beth Elohim in Park Slope had prepared and delivered 65,000 meals to victims of Hurricane Sandy.
Beginning the day after Hurricane Sandy struck October 22, CBE has prepared, packaged, and delivered 500 to 600 meals a day for those in need. At the helm of the program, called CBE Feeds, stands four-time James Beard Award-winning chef Rozanne Gold, the author of 12 cookbooks who was first chef to the late former NYC mayor, Ed Koch and consulting chef to the Rainbow Room and Windows on the World.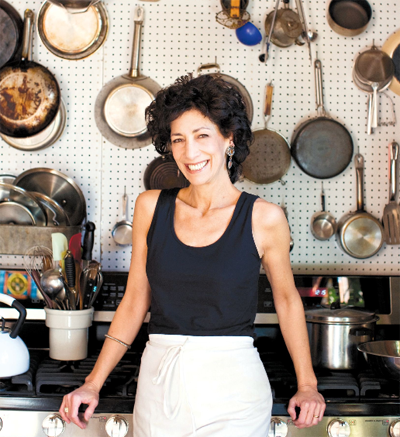 Award-winning chef Rozanne Gold has been the driving force behind the CBE Feeds program. Courtesy rozannegold.com
At Gold's side since the inception of the program has been her husband of 25 years Michael Whiteman, president of the renowned Joseph Baum & Michael Whiteman Company and one of the country's leading food and restaurant consultants.
Initiated by Rabbi Andy Bachman's call to action to the extended community and in partnership with New York City Councilman Brad Lander, CBE first made thousands of meals for displaced residents in the Park Slope Armory and then extended its efforts to the Rockaways, Coney Island, and Red Hook.
The synagogue coordinated efforts with the mayor's office to deliver medical care to stranded residents and harnessed donations from sources across the country to reach the city's most vulnerable citizens. To date, CBE has enlisted more than 2,800 volunteers and, six months after Sandy, is still making more than 500 meals a day, five days a week.
The volunteer team of kitchen workers and drivers includes members of the synagogue, non-Jewish neighbors, and visiting groups from all over the country such as New York Cares, Americorps, Israeli Scouts, church groups from Alabama and Ohio, students home for holidays, and numerous sororities.
"I realized that I never really knew anyone who was hungry," Gold says. "The awareness and appreciation of this plight became a focus of my thinking, because the need continues to be great. To this day, there are lines of people waiting for the sandwiches and hot food we prepare. And sometimes that reality is hard to fathom."