Brooklyn Engineering for Kids recently began offering its STEM classes for kids in Brooklyn. The engineering classes for kids use Legos and other materials to help kids problem-solve.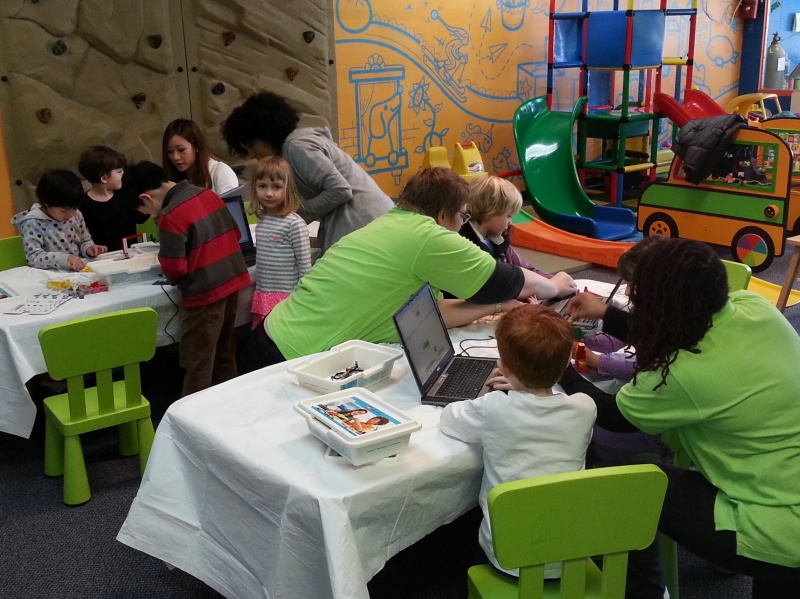 This free Junior Lego Robotics
workshop taught children how to
build and program a robot.
Engineering for Kids is an enrichment program dedicated to introducing children to STEM through fun, hands-on activities. The program offers classes, camps, clubs, and parties that use creative and challenging projects to engage kids ages 4-14 with engineering concepts and design processes.
The program started in 2009 and a branch opened in Brooklyn in March. Brooklyn Engineering for Kids partners with various local centers to hold classes for children in Brooklyn. It is currently offering free workshops and more in-depth programs that take place once a week for six weeks.
Owner of Brooklyn Engineering for Kids Allen Chu says the classes give children an activity or project to complete, such as constructing an airplane or programming a robot, using the six-step engineering design process: ask, brainstorm, design, build, test, improve. "Every child that goes in [to a class] uses their own creativity," he says. "They can build something completely different than the child next to them."
Chu says Engineering for Kids encourages natural curiosity and fosters problem-solving skills while teaching children that engineering and other STEM-related activities can be fun. "All kids are natural builders. We want them to see engineering could be a career for them in the long term," he says.
Brooklyn Engineering for Kids holds classes at partner locations in the area.