A new preschool recently opened in Brooklyn Heights. Building Bridges at Congregation Mount Sinai, which offers morning and afternoon preschool programs, encourages exploration as a way of learning and focuses on physical, social, emotional, and cognitive development.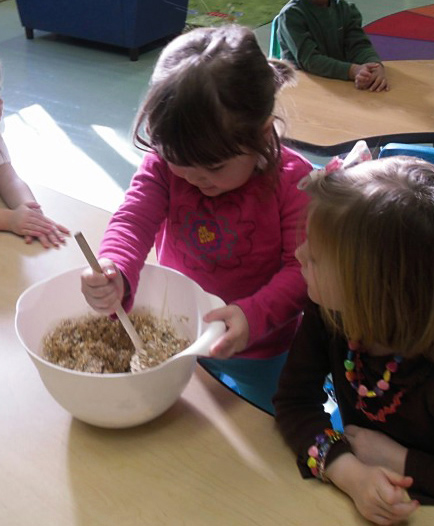 Children are encouraged to explore
creativity through activities
such as cooking.
Building Bridges at Congregation Mount Sinai, a preschool that opened in September, focuses on the physical, emotional, social, and cognitive development of children. The small class size and environment of the preschool allows children to learn to the best of their abilities. The school's curriculum is nonsectarian and the school welcomes and celebrates the student's different beliefs and religions.
Building Bridges offers two programs: the twos and threes program and the threes and fours program. The twos and threes program focuses on encouraging children to explore arts and crafts, music, cooking, dance, movement, and singing at their own pace. The threes and fours program uses interactive activities and games to encourage exploration and imagination, as well as building the foundation for academic learning. Both programs focus on developing fine motor skills, interacting with other children, and learning thinking and language skills.
"We have blended the best components of varying and creative curriculums to come up with what we will present and teach in our classroom," says co-founder Susan Kuhlmann. "That, plus very small class sizes, make our programs intimate and enriching."
Building Bridges at Congregation Mount Sinai offers morning and afternoon sessions for both programs, plus an extended day option for threes and fours.