With a recently remodeled play center, Who's on First offers a variety of classes including yoga, art, music, Spanish, and Mandarin for children. The child-care center in Carroll Gardens strives to enhance self-esteem and problem solving skills.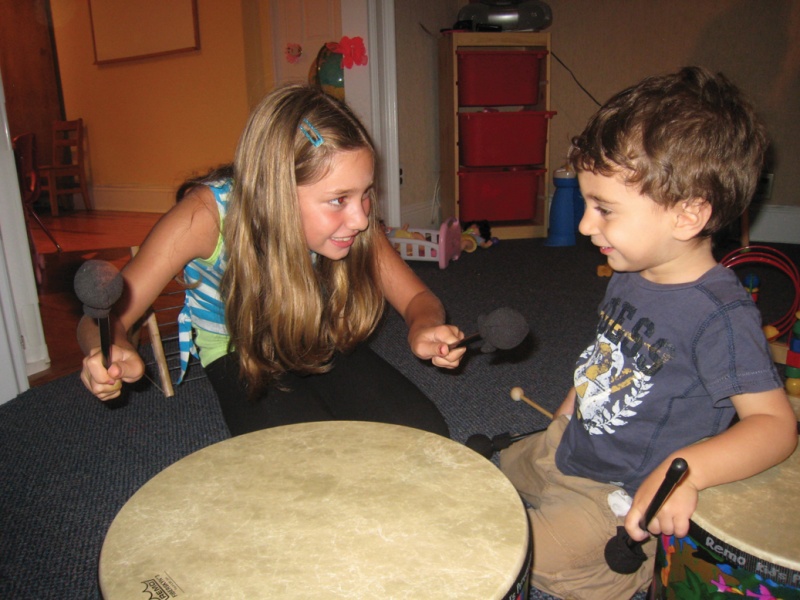 Athena and Dean play the drums
during music class.
As the founders of Who's on First Children's Enrichment Studio, mother-daughter team Kathryn Sennis and Nicole Pappas combine an inviting child-care environment with self-directed enrichment activities, a low child-to-teacher ratio, a patient approach, and the opportunity for caregiver involvement. They find this combination helps children discover their unique abilities while having fun. "We both love children and desire to create a nurturing and supportive environment for children and their caregivers," Sennis says.
The center offers music, yoga, art, creative movement, and playgroups for newborns to 7-year-olds, and the owners place emphasis on foreign language by teaching Spanish. With a recently remodeled play center, Who's on First will offer many new programs beginning in January, including Mandarin lessons and caregiver "drop-in" on Tuesdays and Thursdays, which will give caregivers the opportunity to visit the play environment and experience what his or her child is learning.
Sennis and Pappas make it their mission to enhance self-esteem and problem solving, socialization, and conflict-resolution skills while fostering free expression. The duo believes early childhood is a crucial age in which environment and experiences shape the future stages of each child's life and caregivers should be as involved as possible. Who's on First also hosts parties, offering a bright, fun atmosphere for social events.