Bumblebees R Us, an educational child care facility, recently opened its Park Slope location. The Park Slope child care center aims to help children progress in all developmental areas.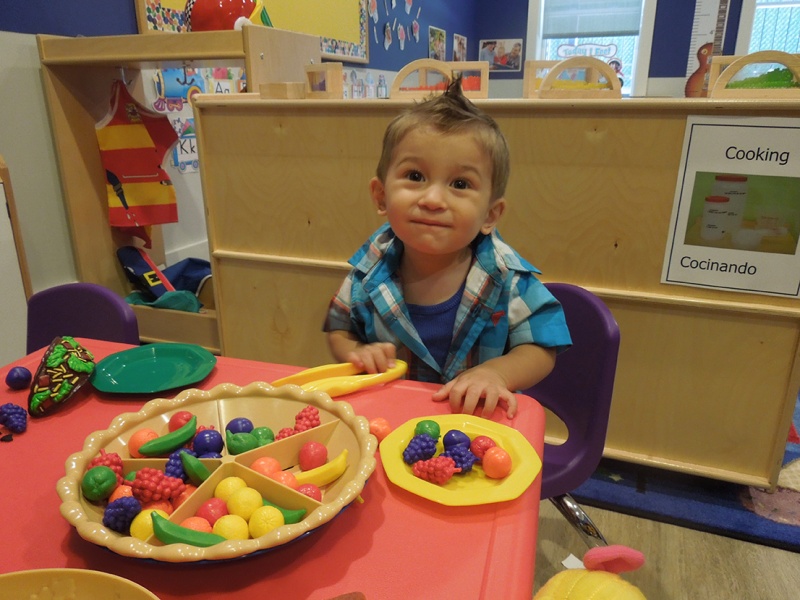 A child at Bumblebees R Us plays with toy fruit in the cooking area.
Bumblebees R Us, an educational child care program that caters to children ages 6 weeks to 3 years, has opened a new location in Park Slope. It has infant, toddler, and preschool programs that are reflective and responsive to the needs of each specific age group.
"At Bumblebees R Us, our mission is to provide the highest quality child care experience in a safe and nurturing environment," says Shari Seidman, family and community partnership coordinator. "Our staff works diligently to promote progress in all developmental areas."
The infant program encourages infants to babble, crawl, and delight in the sights and sounds that surround them. This entices them to develop their senses and achieve all of their developmental milestones in a timely manner.
The toddler program is designed to meet children's needs as active explorers. Toddlers are transitioning from an egocentric world to a world in which they must develop turn- taking skills, accept limits and boundaries, and show signs of increasing independence.
The preschool program follows a structured daily schedule carefully planned to continually engage our preschoolers in purposeful activities intended to promote progress in all school readiness skills.
The facility's attentiveness and attention to detail is what sets it apart, according to Seidman. "We are constantly assessing our programs and ensuring that we are meeting the highest standards of care and education based on current research."