Here are 7 fun and low-cost (some FREE!) things to do with kids in Brooklyn in January 2013, including family shows and children's events in Crown Heights, Fort Greene, Midwood, Park Slope, Prospect Heights, and beyond.


Go Sledding!
Looking for a spot to try out that new toboggan? Here's a list of 9 sledding hills in Brooklyn, from Bay Ridge to Prospect Park and beyond. FREE!
Brooklyn Center for the Performing Arts, Midwood
Jan. 6
If you're familiar with Melinda Long's delightful picture book, How I Became a Pirate, you were likely swept out to sea by its great juxtaposition of a modern 21st-century kid, Jeremy Jacob, with the tough, gregarious, and ultimately likeable Captain Braidbeard and his crew. As Jeremy transitions from a normal kid making sandcastles on the beach to an ill-mannered pirate, he encounters plenty of learning experiences, along with an appreciation for everything he left behind (like somebody to tuck him in at night). This month, take a trip to Brooklyn College to see the story brought to life on the stage.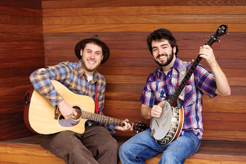 Hip Tot Music Festival
Littlefield, Park Slope
Jan. 13
The Hip Tot Music Festival, a once-monthly concert for children and their parents featuring great kindie rock musicians, has been going strong for nearly a year, with names like Audra Rox, Suzi Shelton, and the Deedle Deedle Dees holding court. January's event features the Brooklyn-based Rolie Polie Guacamole and Minneapolis' Okee Dokee Brothers (pictured), who together make for a diverse bill. The Okee Dokee Brothers were recently nominated for a Grammy on the strength of their latest release, the Parents Choice-award-winning Can You Canoe, which was written during a canoe trip down the Mississippi River. The duo strives to inspire children and grown-ups to go outside and experience nature. Steeped in Americana-inspired folksiness, think Uncle Tupelo but unplugged and less melancholy. The members of Rolie Polie Guacamole have managed to define themselves as Brooklyn kindie rock heroes, appearing everywhere to packed houses while serving up funny, educational pop/rock that's groovy and danceable. It's no surprise that they have been moonlighting at the Windsor Terrace Y performing music and movement classes.
Ashland Place, Fort Greene
Jan. 19
BAM launches its 2013 BAMfamily season of kid-friendly educational programs with a special event at its new Fisher performance/rehearsal complex: Down the Rabbit Hole, featuring the acclaimed Story Pirates. The Pirates visit NYC schools and invite kids to write stories, all of which are discussed and a handful of which are turned into theater pieces that are usually hysterical. Also appearing is Urban Stages, a troupe that combines interactive puppets and poetry. The event will also feature face painting and myriad activities. The day's premise is stories, big and small, and children are invited to come dressed as their favorite story characters.
Martin Luther King, Jr.'s Message of Peace
Brooklyn Children's Museum, Crown Heights
Jan. 19-20
The Brooklyn Children's Museum delivers several great learning opportunities for kids with regard to Martin Luther King, Jr. and the civil rights struggle. Preschoolers learn about MLK through hands-on activities during Martin Luther King, Jr.'s Message of Peace, while children 4 and older examine King and civil rights through higher-thinking activities and arts and crafts at MLK Day: Injustice Anywhere is a Threat to Justice Everywhere (Jan. 20 and 26).
Tribute to Martin Luther King, Jr.
Brooklyn Academy of Music, Fort Greene
Jan. 21
For adults and older children, Brooklyn Academy of Music presents its annual Tribute to Martin Luther King, Jr., which is a collaboration between BAM, Medgar Evers College, and the Brooklyn Borough President's Office. Brooklyn's deep African-American roots and its dedication to King and his mission can be felt throughout this event, which feature great music, speeches from dignitaries, and testimonials via audio/visual media. FREE!
Barclays Center, Prospect Heights
Jan. 23-27
Don't be late for this important date with your favorite Disney princesses: Tiana, Rapunzel, Cinderella, Jasmine, Ariel, Sleeping Beauty, Belle, Mulan, and of course, the one who started it all, Snow White. Disney On Ice: Treasure Trove has them all, plus a plot that will take you from Neverland to Wonderland to the African plains.
Also See:
Indoor and Outdoor Skating Rinks in Brooklyn and Beyond
Where to Ski and Snowboard near NYC
Search our full calendar events for even more fun family activities in the NYC area