Play, an indoor play and learning space in Greenpoint, is now owned by Josh Gunsberger. Play offers classes by RugBug, an after-school program for 5- to 10-year-olds, movie nights starting in the fall, and drop-in play time for toddlers.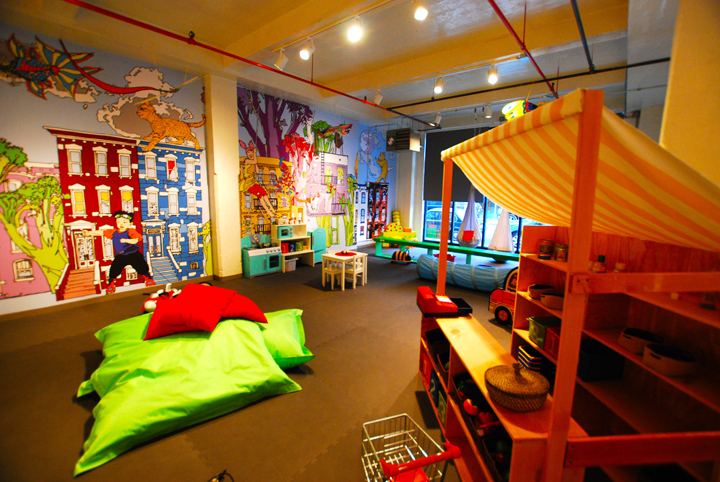 Play is an early childhood education center with an indoor play space that has a padded area and toys. Play's owner, Josh Gunsberger, bought the space in January 2012 because he saw an opportunity in the Greenpoint neighborhood. Gunsberger also owns FasTracKids in Bay Ridge/Dyker Heights, a preschool enrichment program, and wanted to develop his own program for Play. Parents can bring children newborn to 5-year-olds for all that the space has to offer.
"At the end of the day we want it to be kind of like your living room. We want it to feel like you are in your own home," Gunsberger says.
Play has a variety of classes designed by RugBug including dance, music, art, theater, and play. Classes are offered to all ages but are divided into age groups. All classes include unlimited access to the play space, something not many places have, Gunsberger says. There are two membership tracks, an annual membership and a class membership good for 10 weeks, as well as a drop-in option for parents who want to try out the facility. Play also hosts birthday parties, and the staff produces custom parties with different themes depending on what the parents are looking for.
After buying the space, Gunsberger upgraded it by creating a classroom and a crawling area for toddlers. Play is also planning to launch an after-school program for children ages 5-10 and will host movie nights starting in the fall. "A lot of people think [Play] is only for a rainy day, but we do stuff when it is nice out, too," Gunsberger says.