New York Kids Club, a children's activity center, recently opened its Park Slope location. The center offers various kids classes including theater, dance, gymnastics, and cooking, as well as birthday parties and after-school pick-ups.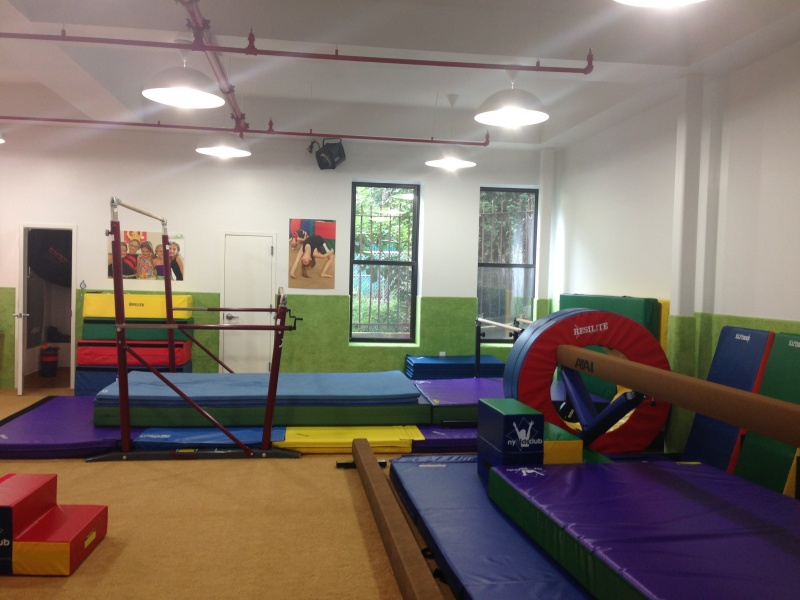 Two colorful gym spaces allow kids to develop
their gymnastics skills and stay active.
New York Kids Club celebrated the grand opening of its Park Slope location with a full fall curriculum in September after hosting preview classes in July and August. With eight classrooms, two gym spaces, and a cooking area spanning three floors, the space is the largest New York Kids Club location. Children, infants through age 9, can take gymnastics, dance, theater, cooking, music, and art classes, and a dedicated 2s Club program can ease your toddler into gentle separation.
"We're excited to expose the Park Slope families to what we're all about," says location manager Kimberly Yosslowitz, who adds that the customer service, quality of classes, and individualized attention to both kids and parents ensures that everyone will have a good time.
The Park Slope location also offers after-school pickup from neighborhood schools P.S. 133 and P.S. 282, and children receive homework help, can take Kids Club classes, enjoy free play, and have a snack in a safe and fun environment. With Friday family fun events, weekend camp, Saturday parties for kids age 5-9, and birthday party options (all parties are hosted by NYKC coaches and teachers and are catered to the birthday child's wishes), there's something for every child every day.