Ocean Wonders: Sharks!, a new 57,000-square-foot building that will house more than 115 species of marine wildlife, is set to open at the New York Aquarium in Coney Island in 2016. The project was delayed due to Hurricane Sandy.
Rendering of Ocean Wonders: Sharks! at the WCS New York Aquarium, scheduled to open in 2016
On Jan. 10, the Wildlife Conservation Society's New York Aquarium in Coney Island celebrated the groundbreaking of Ocean Wonders: Sharks!, a 57,000-square-foot building that will house more than 115 species of marine wildlife, including sharks, skates, and rays. This historic event marks the beginning of the rebuilding and transformation of the New York Aquarium, post Hurricane Sandy.

Ocean Wonders: Sharks! will be a destination for education and conservation programming. Education is a vital part of the exhibit, which will include a new state-of-the-art Oceanview Learning Laboratory where the 220,000 school children who visit the aquarium annually will learn about aquatic wildlife and their habitats.
In addition, the New York Aquarium has teamed up with the WCS Global Marine Program to ensure that the transformed aquarium includes additional educational exhibits about the New York seascape and to ensure a robust local conservation program from Cape May to Montauk.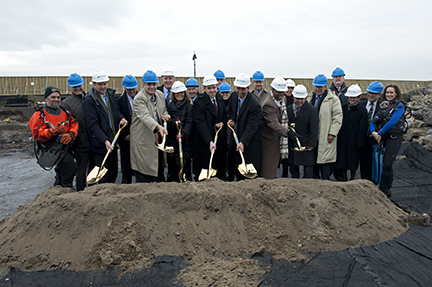 Elected officials and community leaders who attended the event included: Brooklyn Borough President Eric Adams; City Council Member Mark Treyger; Former City Council Member Domenic M. Recchia, Jr.; Council Member Vincent Gentile; Executive Vice President, Economic Development Cop. Tom McKnight; First Deputy Commissioner, NYC Parks & Recreation Liam Kavanagh; Director of the Natural Resources Defense Council's Ocean Initiative Sarah Chasis; Director of Operations for the Alliance for Coney Island Johanna Zaki; and Principal of the Rachel Carson High School for Coastal Studies Ed Wilensky.
The Ocean Wonders: Sharks! project was delayed due to Hurricane Sandy. It is scheduled to be completed in 2016. New York City has committed $111 million to the $157.1 million capital project.
"The New York Aquarium's spectacular new Ocean Wonders: Sharks! exhibit will lure visitors to Coney Island from far and wide, and immerse them in all the wonders of the watery deep," said Mayor Bill de Blasio. "It's the result of years of hard work and creative planning by the Wildlife Conservation Society and its partners in City government. And today's groundbreaking is another huge step forward in the Aquarium's – and Coney Island's – continued recovery from Hurricane Sandy."
Cristián Samper, WCS President and CEO, said: "We are thankful to our trustees, the City of New York, and all of our supporters for making the transformation of the New York Aquarium possible and for standing by us in the wake of Hurricane Sandy. Ocean Wonders: Sharks! will provide a magnificent, state-of-the-art home for 25 species of sharks and rays while educating people about wildlife found in New York waters. The exhibits will raise awareness about the threats facing marine species and habitats and educate people about the need for marine conservation in New York and around the world."
The new exhibit will feature sharks, rays, sea turtles, thousands of schooling fish, and more. Showcasing WCS marine conservation work, the exhibit will hold more than 500,000 gallons of water in fully immersive and interactive exhibits. It will forge connections between people and wildlife while highlighting the need for conservation of delicate marine ecosystems.
The building's façade on the oceanside will include a 1,100-foot long shimmer wall constructed of 33,000 individual 4-inch by 5½ -inch aluminum panels that will wrap the exterior. The transformation will turn a visit to the aquarium into seamless experience with the famous Coney Island Boardwalk and the nearby Atlantic Ocean.
Ocean Wonders: Sharks! is part of a larger initiative announced in 2009 to help revitalize the aquarium, Coney Island, and its economy. Other elements of this initiative include the building of a holding and quarantine area for the aquarium's sharks, sea turtles, and other marine wildlife, and the renovation of Conservation Hall and Glover's Reef, which opened in 2011.