UPDATED DECEMBER 2013: A guide to official sledding locations in Brooklyn, including NYC parks that allow sledding and snow tubing in Bay Ridge, Brooklyn Heights, Brownsville, Clinton Hill, Crown Heights, Cypress Hills, Fort Greene, Prospect Park, and Sunset Park.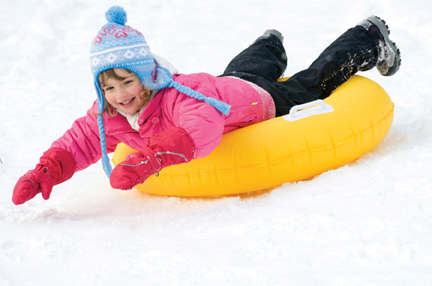 Wondering where to hit the slopes with your toboggan or snow tube in Brooklyn this winter? Check out these top sledding spots in your area for a perfect way to spend a snow day with your kids.
Interior of the park at Willoughby Avenue, Fort Greene/Clinton Hill
The hill near the Prison Ship Martyrs monument is quite a wild ride. It surrounds all four sides of the monument so it never gets too crowded, but the steepest and least crowded area is at the top of the hill. The hill is easily accessible from the park's Willoughby Avenue entrance.
Highland Boulevard and Jamaica Avenue, Cypress Hills
A very overlooked park, on the border between Brooklyn and Queens in Cypress Hills, is Highland Park. The park is in fact on a high plateau that seems to crease the middle of Long Island well beyond city limits. The views of the ocean are stunning enough, but the sledding is primo!
Middagh and Vine streets, Brooklyn Heights
With a name like Hillside, you know you're in for a few slopes. This park also boasts a dog run, so bring the family pooch along on your sledding adventure. The park is located in the shadow of the Brooklyn Bridge and the Brooklyn Heights promenade.
Between Buffalo and Rochester avenues, adjacent to Eastern Parkway service road, Brownsville/Crown Heights
After a solid snowfall, this slope is as good as any in the city, and you might get the added bonus of smaller crowds than the bigger parks.
Fort Hamilton Parkway and 75th Street, Bay Ridge
Don't let its size fool you—this park has a solid hill that's perfect on a snowy afternoon. There's also a playground, dog run, and year-round public bathroom.
Colonial Road and 68th Street, Sunset Park
On the boarder of Bay Ridge and Sunset Park, this park boasts not only an amazing skate park but a huge hill that seems to drop off into New York Harbor. It's an exhilarating ride, indeed. Be aware that there are no public restrooms in Owl's Head Park.
Near the Tennis House at Prospect Park West and 9th Street
The hills here attract sledders from Flatbush, Park Slope, Prospect Heights, Windsor Terrace, and beyond. The most popular slope is near the old tennis house and the current picnic house (nearest entrance is on Prospect Park West and 9th Street), but if that's too crowded, try the one in the meadow off Grand Army Plaza or the one behind the Picnic House, at the Third Street entrance.
Shore Road and 97th Street, Bay Ridge
The big hill here is hard to miss. It may be a bit steep for young kids and/or beginner sledders. The good news: There are 3 year-round bathrooms in the park.
Interior of the park between 42nd and 43rd streets, Sunset Park
Here you'll find one of the highest points on all of Long Island (meaning the entire fish-shaped glacial land mass from Brooklyn to Montauk Point). Yes, this hill is a shredder's paradise, and if it's a clear day, Lady Liberty will be waving from the gorgeous vista of New York Harbor. Bathrooms are located in the Recreation Center.
Also See:
Indoor and Outdoor Ice-Skating Rinks in NYC
Skiing and Snowboarding in the Northeast