5 BEST PARTIES IN BROOKLYN TO SHOW OFF YOUR FAMILY'S HALLOWEEN COSTUME
Related:
halloween parties for kids in brooklyn
,
halloween costume contests for kids in brooklyn
,
brooklyn halloween costume contest
,
Your child has finally settled on what she wants to be for Halloween this year. Take her to show off her Halloween costume at these kid-friendly Halloween parties in Brooklyn and she could take home a prize for the most creative costume.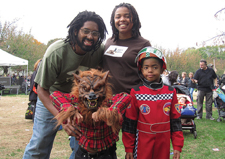 Prospect Park Zoo, Flatbush
Oct. 26-27
Go batty for Halloween with activities like face painting, craft making, encounters with "spooky" creatures, a trip through the zoo's legendary haunted barn, and a costume parade and dance party.
Brooklyn Botanic Garden, Crown Heights
Oct. 26
Shake a tail feather, show off your costume, and carouse with colossal puppets and zany stilt-dancers at Brooklyn's wackiest costume parade! Bang your head to Brooklyn's youngest heavy metal band, waltz with a woodland creature, chat with children's book creators, explore a Victorian toy parlor, or just flop down on the grass and enjoy the Garden's gorgeous fall colors.
PS 372 Recreation Center, Park Slope/Gowanus
Oct. 26
A costume contest, live bands, face painting, and tons of puppets await you at this annual Halloween blow out. There will also be rides, bouncy houses, goody bags for the first 200 kids, and Star Wars characters in costume.
Prospect Park Lookout Hill/Nethermeade, Windsor Terrace
Oct. 26-27
Lurking high on Lookout Hill are zombies, wolf men, headless horsemen, good and bad witches, and other creepy characters. Visitors brave enough to experience this harrowing hike should head to Lookout Hill. The Halloween Haunted Walk is suitable for children accompanied by parents/guardians or older siblings (though it may be frightening for very young children).
Brooklyn Academy of Music, Fort Greene
Oct. 31
Grab the kids and stuff the sarcophagi full of candy at BAM's 12th annual Halloween block party. Sphinxes, snakes, and Cleopatras will gather for an afternoon of Ancient Egypt-themed games, candy giveaways, costume contests, performances, and activities.
Nearby in Staten Island
Staten Island Zoo
Oct. 19-20
Spook out to a creepy enchanted forest; attend to that sweet tooth in a Candy Land Path; witness a superhero show; visit the Creepy Dollhouse and a haunted Ghost Town; and join the costume contest.
Historic Richmond Town
Oct. 25
Go trick-or-treating in the historic village. Tasty treats for costumed kiddies as well as crafts, apple bobbing, and games.
Staten Island Children's Museum
Oct. 26
A spooky morning at the museum! Kids can don their costumes and indulge in sweet treats, games, crafts, pumpkin decorating, and entertainment, plus the museum's famous Haunted House.
More Halloween Fun!
Head to nymetroparents.com/halloween for creative costume ideas, spooky recipes, and awesome giveaways!
More Halloween Articles Articles
7 Tips for Trick-or-Treating with Your Toddler
New Book Encourages Kids to Give Up Halloween Candy
Halloween Activities in Bucks County, PA
DIY Alien Monster Egg Halloween Decoration
Toddler-Friendly Halloween Events in Fairfield County, CT