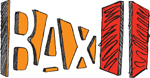 BAX Youth Arts Education provides expert instruction in building technical skills in dance, tumbling, and theater with an emphasis on cultivating creative expression. Working with professional performing arts faculty, BAX students develop improvisation, original choreography, and performance skills, working independently and in collaboration. Youth classes embody BAX's overarching mission to provide the space and support for "artists-in-progress" to explore, hone, and share their unique voice.
For more information on BAX's Youth Education programs visit http://youth.bax.org.
If you are interested in having your child's birthday party at BAX, please visit http://thebuilding.bax.org/birthday/
Want to learn more about this business? Send them a direct inquiry.
BIRTHDAY PARTIES
A BAX Birthday Party is a celebration to remember! Your child and guests will be guided through a creative-movement or drama-based activity led by a seasoned BAX teaching artist. Each two-hour party includes time for free play, fun games, cake, and refreshments. Creative themed activities incorporate elements of storytelling, music, song, and dance, designed with your special birthday girl/boy in mind! Past themes have included cartoons, mermaids, musicals, ballerinas, super heroes, tumbling, and more.
UPDATE YOUR MICROSITE