Who We Are
Club Z! is the world's largest one-on-one tutoring program, with over 400 locations in North America. Our tutors have helped more than 300,000 students improve their grades, raise their test scores, learn productive study skills, build their academic self-confidence, and reach their full potential. Club Z! of Brooklyn has served all Brooklyn neighborhoods since 2008.
What Makes Us Successful
Our success begins with excellent teachers. Club Z! tutors are experienced, degreed professionals and state certified instructors with impeccable credentials and a heartfelt enthusiasm for teaching. They undergo an extensive vetting process ensuring that they are the best available teachers for our students. We begin with an enrollment meeting at the student's home where we gather information about the about their academic background using school evaluations, report cards, parent observations and our own initial evaluation. Armed with that information we work with the family to develop clear goals for tutoring, and an understanding of who will be the right tutor for the particular student. Since our tutoring schedules and weekly hours are flexible, we are able to develop the program that works best for your child.
Who We Serve
We serve students of all ages, pre-K to adult. Tutoring is available in all core subjects - English Language Arts, Mathematics, Foreign Languages, the Sciences and Social Sciences (elementary thru college level). Our teachers work with students of various of abilities providing remedial support, academic enrichment and the specialized instruction required for special needs students. We also offer a proprietary study skills program "Learning Built to Last" and preparation for standardized testing - SAT, ACT, ISEE, SSAT, SHSAT, GED and NYS Grade Level & Regents examinations. Tutors are also available for private instruction in music and art.
The Club Z! Method
Based on an overwhelming amount of educational research, we know that one-on-one instruction is the best way to improve students' academic standing. Club Z! goes a step farther. We provide one-on-one instruction in an environment that is highly conducive to learning - the comfort and security of the home, away from the usual classroom distractions. It is this combination of individualized attention and secure learning environment that enables the student to quickly get back on the academic track and reach his or her full potential. We focus on using the student's own school curriculum. Our goal is to build confidence and competence in the classroom and to work with schools and parents to provide the best student support. One-on-one engagement with very talented, engaging teachers, with whom the student can relate, is extremely effective as it allows students to ask questions, stretch themselves and learn using the style and pace that best suits them.
Club Z! Tutors
Club Z! of Brooklyn prides itself on hiring only state certified teachers or degreed professionals who have both the passion and talent for teaching. A vast majority of our tutors teach or have taught in NYC public or private schools. We carefully match students with teachers who are experts in their field, enthusiastic, creative, share their interests and are fully committed to student success. They use students' own school curricula as the basis for tutoring, adding their own expertise and creativity to differentiate for individual student need. Our instruction is truly individualized - one-on-one, not one teacher to 3, 5 or more students. Immediately following each session, Club Z! tutors meet with parents to review their child's progress.
Club Z! Curriculum
Club Z! uses the student's classroom curriculum. Our tutors do not introduce new material that will only further overwhelm an already struggling student. We will work with currently assigned classroom assignments, homework and scheduled examinations, supplementing the existing curriculum and knowledge base as needed. Most importantly, Club Z! students are allowed to work at their own pace. For students who would benefit from academic challenges above and beyond what is offered in the classroom, we offer enrichment services tailored to generate high interest and further expand the knowledge base of top performing students.
Club Z! Convenience
We schedule sessions at times convenient to parents - morning, afternoon, evening, weekends and summers - in the convenience of your own home. Parents save time and money and are freed from the hassle of commuting to and from educational centers.
Club Z! Affordable Rates
Club Z! offers the most competitive rates in the industry. Parents, in consultation with our educational consultants, decide how often and for how long tutors will meet with their child. You need not worry about making a long-term commitment. We offer month-to-month agreements and discounted tutoring packages. Billing is done via major credit/debit cards.
Club Z! Commitment
Club Z! Brooklyn strives to become more involved in our community through partnerships with PTA's, local non-profit organizations, community centers and after school programs. We provide a consistent bridge of support for our teachers, students and parents at rates Brooklyn families can afford on an on-going basis, with the flexibility they need.
What Our Parents Are Saying
"We are so pleased with Lucy's tutor. Lucy has totally bonded with her in a way I was not expecting. As a result, she has been responding so well to the SAT program you have designed for her...I'm feeling much more confident now that Lucy's tutoring is in full swing. I see Lucy's demeanor changing and becoming more confident...Thank you again!" -Jane, Windsor Terrace
"You found a very good match for Brandon. Zach was great and Brandon really enjoyed working with him and felt comfortable with him from the start. After one session, Zach was able to pinpoint his weaknesses and strengths." -Gina, Bensonhurst
"Catherine has been OUTSTANDING. She has helped so much, she cares tremendously, and gives 1,000 percent of herself. I am totally lost regarding math, so this help has been invaluable. In fact, I've already recommended Club Z! to several people!" - Lisa, Park Slope
"I just wanted to thank Club Z! for the great work you did preparing L---for the SHSAT. You made a great match and her tutor was fantastic. I loved the personal attention she received and the convenience of having the tutor come to us. With our hectic schedule we wouldn't have been able to prepare otherwise. She's been accepted to Stuyvesant so we're very excited about her options for high school next year! " - Mother, Dyker Heights
"I couldn't believe it when Noah's teacher sent that note home saying that his reading level had climbed four levels just two months after he started working with his Club Z! tutor. He was struggling and now his progress is really remarkable. He's actually enjoying reading and wants to read to me. This is an amazing turnaround! Thanks so much for making such a great match and for collaborating with his teacher to make this happen!" -Dion, Prospect-Lefferts Gardens
CALL US TODAY AT 718-483-8506.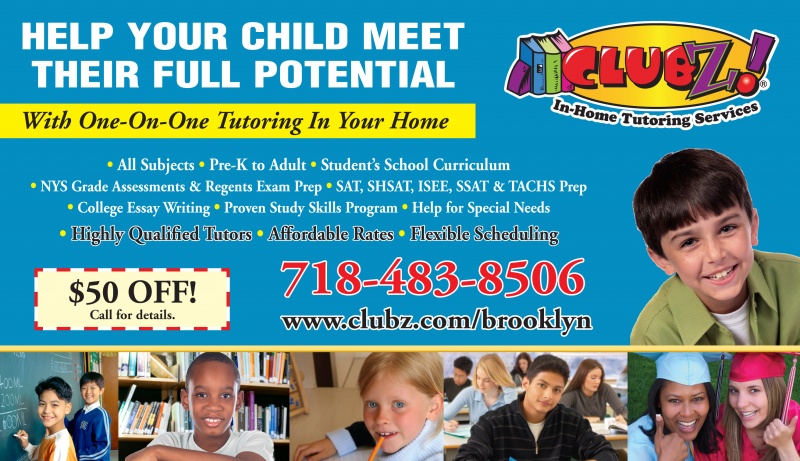 Want to learn more about this business? Send them a direct inquiry.
CAMPS-SPECIALTY
Club Z! of Brooklyn Club Z! of Brooklyn provides highly individualized, one-on-one instruction in all subjects, for students of all ages. Our tutors are experienced, degreed professionals and/or state certified instructors, with impeccable credentials and a heartfelt enthusiasm for teaching. We use our students' school curricula and guarantee increased confidence in the classroom, higher grades, stronger study skills, and enhanced motivation. We offer tutoring at home or other convenient locations, flexible scheduling, affordable rates, and excellent support for students of all abilities. We serve all Brooklyn neighborhoods. Contact 718-483-8506 or visit clubz.com/brooklyn.
UPDATE YOUR MICROSITE