Holiday & Summer Camps
All Camps start at 9:00am- 4:00pm with an
Extended Day Option!-MLK Day Camp: January 20th
MLK Day Camp: January 20th
Mid-Winter Break Camp: February 18th- 21st
Spring Break Camp: April 14th- 18th & April 21nd- 22nd
Summer Camp: June 18 - September 5
After School
Monday – Friday: After School
3:30pm- 5:30pm (Walk Over / Pick-Up Available)
Pro- Rated Open Enrollment-Monday: Mixed Media
Tuesday & Thursday: Sculpture
Wednesday: Ceramics
Friday: Stop Motion Animation
Little Artists (Mommy and Me) Classes
Clay and Crafts: Monday, Wednesday and Friday
10:30am- 11:15am
Birthday Parties
During our clay based birthday parties the children will
create a unique hand built clay project that will be fired in
our kiln. With Created by Kids birthday bashes, everyone
is sure to have an artsy, awesome time!

Created by Kids is a new Fine Arts Program for children of all ages! We offer camps, birthday parties, mommy & me and after school classes. Created By Kids takes advanced fine art techniques and makes them age appropriate to give your
child a unique artistic experience. The integration of art in a child's development can both foster, advance, and develop their already existing creative energy while refining important motor skills. Students learn about ceramics (both hand-built and wheel- thrown), jewelry- making, sculpture, stop-motion animation, mixed media, textiles, printmaking, art installations and much more. So come join the creativity!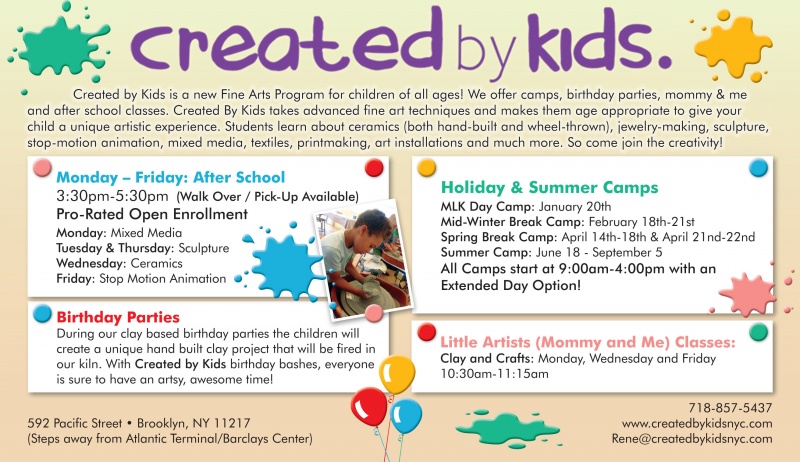 Want to learn more about this business? Send them a direct inquiry.
CAMPS-SPECIALTY
Created By Kids is excited to announce its 2014 Summer Camp Program. We will be hosting an all-new ten-week camp, with a different theme each week. Each week, students explore different thematic concepts, beginning with an educational foundation as inspiration. Based on the theme, we'll use a variety of art-making techniques, including ceramics (both hand-built and wheel-thrown), jewelry-making, mixed media, textiles, printmaking, paper-making, and installations. The variety will keep kids interested while they learn about cultures, history, and literature through unique artistic projects. Sign up today and join the creativity!

Rene Czika, owner and director of Created By Kids, received her B.F.A. from Columbus College of Art and Design. After moving to Brooklyn in 2010, she began offering her Ceramics Program to local schools. This year she realized her dream of opening her own Art Studio, where she could expand her program to include pottery wheels, printmaking, jewelry design, sculpture, and stop-motion animation. Rene is passionate about sharing her creative visions with children.
UPDATE YOUR MICROSITE