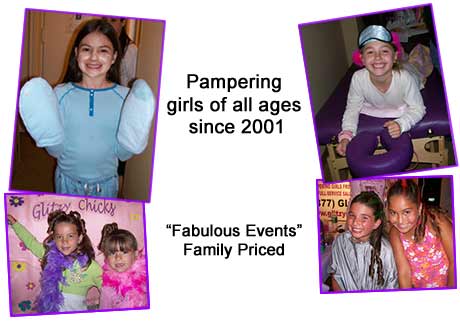 GLITZY CHICKS® has been providing "GLAM-JAM" services throughout the tristate area since 2001. Rest assured, we know EXACTLY what girls want. It is our pleasure to provide it all!
It has always been this company's mission to create and perfect events that mirror every girl's "Dream Party". Thousands of delighted Divas later...we are
proud to declare our mission a success.
Like the many young clients whom we've catered to over these 9+years, GLITZY CHICKS® and it's services, has grown by leaps and bounds! We've added package choices and additional options. If you have a custom event in mind, just describe it and we'll make it happen! We are committed to staying on top of trends as well as pampering Girls of all ages, all likes, and all dislikes. GLITZY CHICKS® is for everyone!
Custom events are a well-know GLITZY CHICKS® specialty!!
As we approach our 10th Anniversary, we take the opportunity to give sincere "Thanks" to all of you who have spread such good words about our events! We've added additional crews to accommodate the ever growing number of family and friends that you refer to us. It's our privilege to take part in so many of your most special moments.
Proud to be the first company of it's kind in the Metropolitan Area, GLITZY CHICKS® stands far apart from those now offering similar services.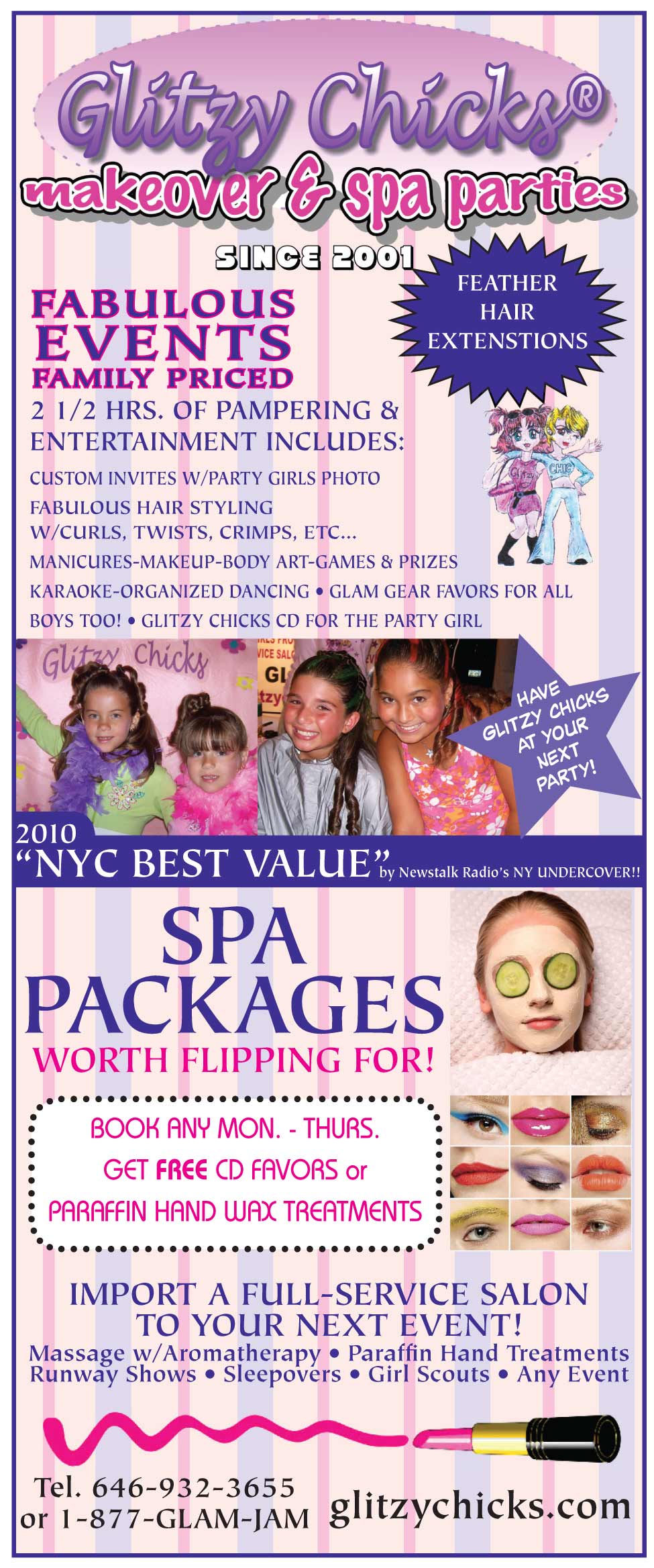 Want to learn more about this business? Send them a direct inquiry.
FAMILY ACTIVITIES
The first company of its kind in the tri-state area, Glitzy Chicks® has been specializing in make over and spa parties for over 13 years. The salon comes to you! Pampering includes manicures, pedicures, funky hair styling, makeup applications, massages with aromatherapy and more—glitz and glam all the way! Full entertainment while guests take turns at the salon stations means there's never a dull moment! Sing a-along, dancing, and games. Packages for all ages, reduced packages for weekday events, and mother-daughter fundraisers for your organization.
Read More About Glitzy Chicks® Make-Over & Spa Parties
Featured Birthday Parties Listings for 5/31/2012
Discover children's birthday party planners, birthday party places and entertainers in the New York area. They also arrange parties in Westchester, Rockland, Fairfield Counties, and Long Island, both Nassau and Suffolk Counties. Many of these party resources will come to your home or serve as the host. If you are looking for a venue for your child's birthday party that will be exciting, safe, different and easy, check out the providers listed below or visit nymetroparents.com
UPDATE YOUR MICROSITE