Red Tiger Jiu Jitsu Ryu system is a unique system developed by Kyoshi Frankin Foster, MBA, a 6th degree black belt who has dedicated his life to the development of individuals. He started his Martial Arts career in Jiu Jitsu at the age of 9 years and has continued to study the Martial Arts for well over 30 years. He has lectured and taught seminars to many students of the martial arts both nationally and internationally and enjoy the positive, never give up attitudes his martial arts has instilled in all students that he has touched.
Red Tiger Jiu Jitsu Ryu system is a unique system that incorporates Jiu Jitsu, Judo, Aikido and Tae Kwon Do. It is a system designed to develop character, confidence, strong leadership qualities and survival skills for all ages. Red Tiger Academy specializes in the positive development of both children and Adults. We have two locations and conduct classes at Phyl's Academy, Brooklyn Ascend Charter and Little Flower Preparatory school.
We are committed to creating:
A strong body
A disciplined mind
Greater self esteem
Building positive leadership qualities
Improving self –confidence.
Our programs consist of
Bullying prevention
Self defense classes (Private or Groups)
Fitness classes (Private or Groups)
Red Tiger Jiu Jitsu classes (Private or Groups)
Weaponry training
After School home work assistance
We can help you over come your Fears! Visit or call one of our locations:
8520 Foster Ave.
Brooklyn NY 11236
(Bet. 85th & 86th Streets)
718 968 8592
1193 Dean Street, 2nd Floor
Brooklyn NY 11216
(Cor. Nostrand Ave. & Dean Street)
718 576 5545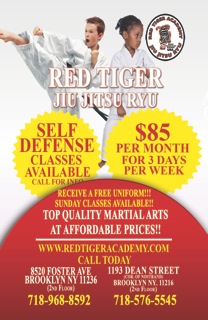 Want to learn more about this business? Send them a direct inquiry.
BIRTHDAY PARTIES
We at Red Tiger Academy are committed to creating a strong body, disciplined mind, a higher self-esteem and masterful survival skills for both children and adults. We believe that confidence is a person's best friend. That confidence, along with the disciplined learned in our dojo, supports personal growth in all areas of our members' lives from more determination to achieve, to better grades, to more respect for oneself and others and, of course, better health and fitness.