Come to Our Open House on Saturday April 16th, 2012
In 1983 at a neighbor′s request, Christine Altman put together a small informal summer playgroup. Each day in July, this small group of children, aged three through five explored Prospect Park. As parents got to know about us, they asked if it was possible to join in. Park Slope spread the word and this small group became a larger group requiring the help of local parents and students.
Children continued to come, so what started as a group of young preschool children ages three to five years, now became a group of school age children ages four through ten. With the older children came the need to expand the scope of activities, and soon we were traveling outside the neighborhood utilizing Brooklyn and Manhattan.
The group kept growing, so a decision had to be made. If we were to continue, permits to use the park and beaches were needed. Permits required insurance, Board of Health certification, and a building. We persevered with borrowed buildings. We were going into the month of August now as well; and still we continued to grow.
There were no advertisements, no listed phone numbers, no web site, and yet parents found us. Keeping the name Park Explorers, a name picked out by the children, we became a fully licensed summer day camp.
Now we have over a hundred campers and a wonderful facility of Saint Saviour Church basement. We are fully insured and licensed; we hire professionals as well as students to keep the campers safe and happy. Our campers got older and with them the age limits. Now we take four through fourteen year olds. At fifteen our campers are eligible to become CIT′s (counselors in training) and part of our team.
No longer are we an exclusive Park Slope group. Yellow school buses pick up children from around the Prospect Park areas, plus some. We go on local and overnight trips to New Jersey, Long Island, Pennsylvania and Upstate NY.
And now... Some of our staff that came up through the program, from their early years, continue to be a part of the Park Explorers experience.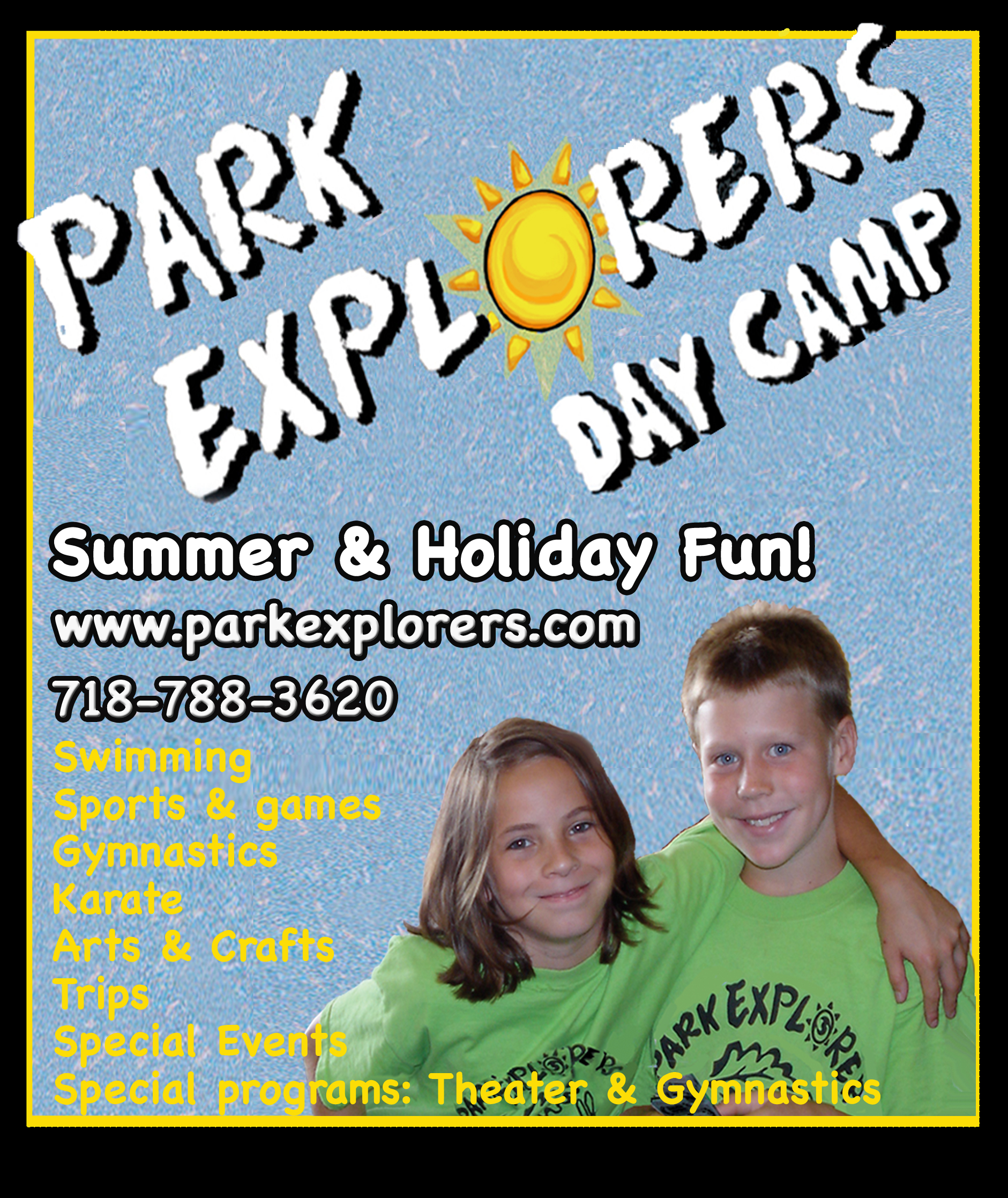 Want to learn more about this business? Send them a direct inquiry.
SUMMER FUN – PROGRAMS & CLASSES – PRINT GUIDE
At Park Explorers in Park Slope, kids find an exciting summer full of the traditional camp activities – games, songs, swimming, sports, and arts & crafts, with gymnastics, karate, beach, and trips in and around the tri-state area. The close proximity to Prospect Park ensures that even the youngest camper gets plenty of summer sunshine. The older campers add trips and overnight adventures going beyond the city. Our diverse staff of creative, energetic counselors ensures that every child stays safe, with plenty of hands-on fun. Weekly enrollment. Multiple-week discounts.

For over 20 years, Christine Altman has been working and entertaining children of all ages in Park Slope. She believes in summer; with lots of sunshine and outdoor fun, it offers children a different experience than that of the school year. There is so much to do and so many green places to explore right here in our surrounding area. Many staff members are former campers who have come back to share the fun they experienced as a child.
Read More About Park Explorers Day Camp
Summer Activities in Brooklyn, NY
Do you need great summer activities for kids in Brooklyn, NY? Use our guide to find kids classes, Brooklyn summer camps, summer programs, activities near Brooklyn, and family excursions close by. Find all of your summer activities for kids in Brooklyn, from Williamsburg to Park Slope, Greenpoint, and Red Hook on NYMetroParents.
Brooklyn Summer Day Camp Offers Toddler Program
Long-running summer day camp, Park Explorers Day Camp, will offer a toddler program starting this summer. The early explorers program introduces children to the summer camp environment at a speed set for 3-year-olds.
UPDATE YOUR MICROSITE