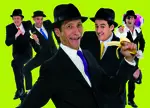 NYMETROPARENTS is giving away family four-packs to see The Wiggles on Friday, August 21 at 3pm!
The most beloved family entertainment band in the world, The Wiggles, are setting out on their wildest adventure to date. The fab four from down under are back with a brand new live show! This spectacular musical extravaganza will showcase old favorites as well as their latest hit "Monkey Man" featuring Australian pop sensation Kylie Minogue from their most recent album "The Wiggles Go Bananas". The Wiggles, Captain Feathersword, Dorothy the Dinosaur, Henry the Octopus, Wags the Dog and all the Wiggly Dancers invite their fans to join them as they "Go Bananas Live!" on Long Island.
The Wiggles are proud to support the nationwide early literacy program Reach Out and Read on their "Go Bananas Live!" Summer Tour. Reach Out and Read (ROR) trains doctors and nurses to advise parents about the importance of reading aloud and to give books to children between 6 months and 5 years old at regular pediatric checkups. The Wiggles would like to encourage every family attending the upcoming Long Island, NY performances, to join them in supporting Reach Out and Read Programs in Greater New York City by bringing a new children's book that will be donated to a child in need in your area! For a list of recommended books, visit The Wiggles website – www.thewiggles.com.
The Wiggling commences at Nassau Coliseum on Friday, August 21st for performances at 3 & 6:30pm as well as performances on Saturday, August 22nd at 10:30am and 2:30pm.
Sorry, this contest is now closed.