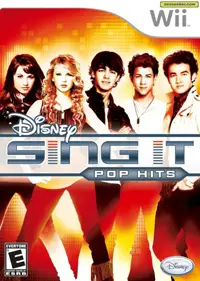 Win "Disney Sing It: Pop Hits" for Wii!

A great gift, just in time for Christmas! One lucky winner will receive this video-based karaoke video game. Take the karaoke challenge and belt out your favorite pop hits from the likes of Taylor Swift, Miley Cyrus, Demi Lovato, the Jonas Brothers, Jesse McCartney, Colbie Caillat, and more! Perform solo to songs and videos by the hottest pop stars, or team up to compete in multi-player performance battles with your friends. You can also practice vocal exercises in Sing It Pro and take your singing to the next level. Game comes with a Logitech® microphone.
For more information on "Disney Sing It: Pop Hits," visit http://disney.go.com/disneyinteractivestudios/singit/singit.html.
Enter below before December 18 to win!
Sorry, this contest is now closed.