Enter to win a copy of Nielsen-Massey Vanillas' new cookbook:
"A Century of Flavor"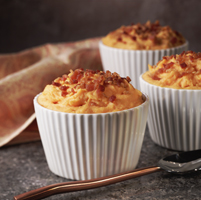 The delightful aromas that waft from the kitchen this holiday season will undoubtedly be associated with fond food memories. The holidays are a perfect time to create flavorful memories with your family and loved ones. Nielsen-Massey Vanillas "A Century of Flavor" cookbook provides moms with a variety of holiday recipes, including Vanilla Carmel Corn Crunch, which can be made with your young chef, and Creamy Vanilla Sweet Potatoes, a perfect side to your family's main course.

This vanilla-inspired cookbook, published by family-owned Nielsen-Massey Vanillas, celebrates the exciting nuances of one of America's most-loved and versatile ingredients - pure vanilla. It is filled with 50 of the most tantalizing recipes, highlighting the intricate, yet delicate flavors of pure vanilla, and is written for the novice cook as well as the seasoned chef.
Nielsen-Massey Vanillas is a 100-year-old manufacturer of the finest extracts in the world. For more information, visit www.nielsenmassey.com.

Check out a sample recipe from "A Century of Flavor":
So crank up the holiday tunes and get cooking with your loved ones! Enter below before December 21 to win.
Sorry, this contest is now closed.