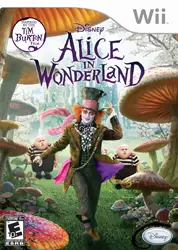 Win a copy of Disney's

Alice in Wonderland
for Wii, based on the new movie!
This new action/adventure game from Disney allows players to enter the magical and imaginative world inspired by Tim Burton's new film, Alice in Wonderland.

The game finds Alice several years after the original "Alice's Adventures in Wonderland" and "Through the Looking Glass" stories. It takes players on a topsy-turvy journey as Alice finds herself in a world of illusion, where nothing is quite what it seems. Alongside her endearing friends - Mad Hatter, March Hare, Cheshire Cat, and White Rabbit - players aid Alice in defeating the Red Queen and Jabberwocky. For more information on the game, click here.

Enter below before April 6 to win!
Sorry, this contest is now closed.