Win the Hummingbird Bakery Cupcake Kit!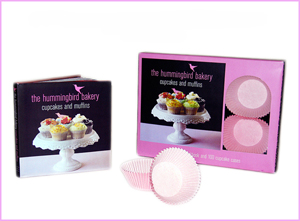 The little baker in your family will love this new Hummingbird Bakery kit with its yummy collection of recipes for delectable cupcakes and muffins.
The kit contains a book with 28 easy-to-follow recipes from Tarek Malouf, who opened the first Hummingbird Bakery in London's Notting Hill district in 2004. Malouf was inspired to open the bakery after many visits to the U.S. - and to New York City, in particular - where he found a boundless amount of bakeries carrying high-quality sweets.
Cupcakes are by far the most popular item at Hummingbird, Malouf says in the book, and the vanilla cupcake with pink frosting tops the charts. With the Hummingbird Bakery Cupcake Kit, you can recreate this crowd favorite or one of Hummingbird's other famous confections, such as its red velvet, lavender, or marshmallow cupcakes. For something a little less sugary, try a muffin recipe - from basic blueberry to a maple and pecan version. The kit also contains 100 colored paper cupcake cases decorated with pink hummingbirds for stylish baking.
For more information, visit www.rylandpeters.com.
Enter below before May 31 to win!
Sorry, this contest is now closed.