Win a Set of Playtex Baby Bottles!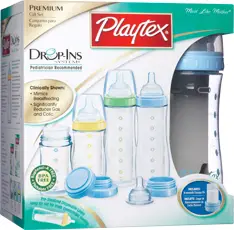 Playtex® Drop-Ins® Bottle System
The Playtex® Drop-Ins® Bottle System has been clinically shown to support the natural sucking, swallowing, and breathing rhythm that comes naturally to breastfeeding babies, which reduces gas, colic, and spit-up.
Unique features include:
Liners:
- Only brand that has pre-sterilized, disposable, soft liners that collapse and contract like the breast to allow baby to control the flow of milk and prevent air from entering to reduce spit-up
- Pump, store, and feed directly in the liners for easy and secure milk storage
- Convenient liners ensure a fresh, pre-sterilized bottle at every feeding
Nipple:
- Patented NaturaLatch® soft, wide nipple works like the breast to promote latch-on, minimize nipple confusion, and prevent the unnecessary gasping and gulping of air
Additional benefits:
- Slow flow gives baby the right amount
- BPA-Free and Phthalte-Free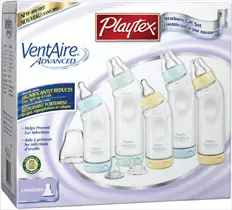 VentAire® Advanced Bottle System
The VentAire® Advanced Bottle System is clinically proven to reduce gas, colic, and spit-up better than other leading bottles. Its angled design promotes the semi-upright feeding position recommended by pediatricians to help prevent ear infections.
Unique features include:
Design:
- Features micro-channel vent technology that vents air at the back of the bottle (versus through the nipple), which prevents air from mixing with milk and provides a virtually bubble-free feeding
- Angled design helps prevent ear infections because it promotes semi-upright feeding to minimize fluid build-up in the middle ear
Additional Benefits:
- Helps liquid flow consistently
- Available in Standard and Wide bottles
- BPA-Free and Phthalate-Free
To learn more about these and other Playtex bottles, visit www.Playtexbaby.com.
Enter by October 18 to win!
Sorry, this contest is now closed.