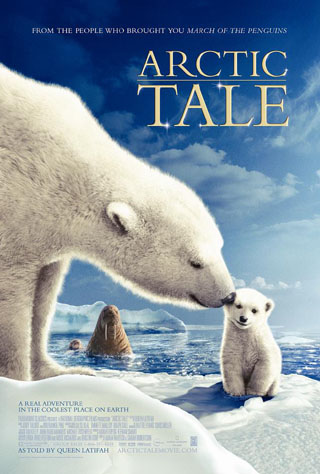 A story of unsinkable family devotion, unfolding courage and extraordinary survival, ARCTIC TALE takes audiences of all ages on an epic adventure inside an icy kingdom at the very top of the earth – where a bold little polar bear and wily young walrus are about to tackle the brave new world that confronts them, with everything they've got. More than five years in the making, the film's stunning and emotional images reveal the beauty, comedy and urgent dangers facing one of the most awe-inspiring, mystery-filled places on our planet. The storyteller of this unforgettable ARCTIC TALE, with a script written partly by nature itself, is Academy Award® nominee Queen Latifah.

Paramount Classics presents a National Geographic Films production in association with Visionbox Pictures, ARCTIC TALE, directed by Adam Ravetch and Sarah Robertson. The producers are Keenan Smart and Adam Leipzig, and Kevin McCarey and John Manulis are executive producers.  Kattie Evans is co-producer.

ARCTIC TALE screenings will take place in:
Brooklyn
Sat, 7/14, 10am

CLOSED

Queens
Sat, 7/14, 10am

CLOSED

White Plains
Thurs, 7/19, 7pm
Manhattan
Sat, 7/21, 10am


Register below for complimentary passes to see the film!
Chill Out Wednesday, July 25!
www.arctictalemovie.com
No purchase necessary. Limit one entry per person. While supplies last. Seating is not guaranteed. Winners will be notified by phone, email or mail one week prior to the screening. Employees of Davler Media, Paramount Classics and their agents, directors, affiliates and parent companies are not eligible.