Wondering where to go sledding with your kids in Fairfield County, CT this winter? We've put together a list of the best sledding hills in parks, schools, and ski areas across Fairfield, Greenwich, Norwalk, Westport, and Woodbury.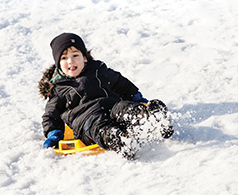 Kids take their snowstorms very seriously, especially when winter weather can mean a day off from school, sipping hot cocoa in between whooshing down hills aboard their Flexible Flyers. Whether they're wearing their pajamas inside out, putting a spoon under their pillow, or flushing ice cubes down the toilet, our superstitious little snow mongers will leave nothing to chance when it come to conjuring up a winter wonderland. If their magic works—and it's bound to sooner or later—you'll want to check out this list of local sledding hills.
Fairfield
Gould Manor Park, 655 Holland Hill Road
Sturges Park, 550 Mill Plain Road
Tunxis Hill Park, 225 Melville Ave.
Greenwich
Bruce Park, Bruce Park Drive
Montgomery Pinetum Park
Norwalk
Wolfpit School, 1 Starlight Drive
Stamford
Cummings Park, Shippan Avenue
Westport
Winslow Park at Compo Road North and Post Road East
Woodbury
Woodbury Ski Area, 785 Washington Road
Also See:
Indoor and Outdoor Ice-Skating Rinks in CT
Where to Go Skiing and Snowboarding in NY, NJ, CT, and Beyond