A Wilton mom steps in to preserve the words of other thinking mothers by buying "Brain, Child" magazine, a literary publication that bills itself as "the magazine for thinking mothers."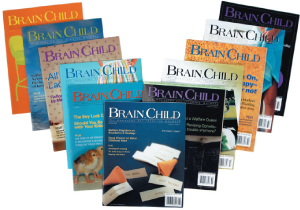 "Brain, Child" readers thought the Summer 2012 issue would be their last, but Soviero stepped in to keep the much-loved magazine alive.
When Marcelle Soviero first picked up a copy of Brain, Child magazine a decade ago, she knew she'd found something special. The Wilton resident and mom of five kids became an avid reader of the literary publication that bills itself as "the magazine for thinking mothers," and, being a writer, she aspired to have her work published in its pages.
On July 12, Soviero went online to the magazine's website intending to submit her work when she saw a notice that it was shutting down. "I was heartbroken," she says. "So I emailed the founders, and I said, 'I want to buy the magazine.'"
The agreement was signed by Aug. 1. "My husband came home from a business trip, and I said, 'We're going to buy this magazine,'" Soviero recalls. "The next thing he knew I had him in a U-Haul." By Aug. 3, they were in Virginia packing up the old Brain, Child offices and moving them back to Wilton.
When the magazine announced that it would continue to print, Soviero received an overwhelmingly positive response from longtime readers, including letters calling her an "editorial knight in shining armor." Any nerves Soviero felt about buying a print magazine in the digital era were eased by the obvious passion of its readers. "This magazine fills such a niche. I can't tell you another magazine that's like it," she says. "The readers we have are really enthusiastic. They're evangelists."
Soviero, who has 18 years of publishing experience and teaches classes at both the Westport Writers' Workshop and Wilton Continuing Education, has big plans for the quarterly magazine, which will publish its next issue in December.
While it will still include essays, short fiction, and features on timely topics, it will now also include poetry, artwork, and a new section called "Times Two," which offers two different perspectives on an issue.
The website, brainchildmag.com, will relaunch Dec. 15 with more online content and a new blog, coinciding with the release of an iPad edition. The December issue will feature work by popular writer Catherine Newman, and more surprises and big names will be announced for future issues.
For more information on the magazine, visit brainchildmag.com.