Related: Nickelodeon, Hasbro, Chronicle Books, AT&T, IBM, Universal Studios, AmeriCares, hospital, school,




NMost parents are information "junkies" of sorts. We become hunters and gatherers of information on raising our children that runs the gamut. Your child requests a pony at her next birthday party and you're on the phone with a friend who you think has a friend who went to a party last year where they had animals. Or you are new to the area and you need a pediatrician and you're not getting any straight answers at the local playground.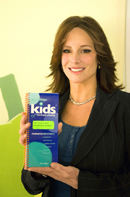 Kate Thornton, a Darien mother of two who is the author of a new family resource guide, All Things Kids, can relate. "In my own experience, I have often felt like no one source was ever enough. I was constantly searching for information on where to find it or whom to call. Believe it or not, these answers can be hard to come by from even the most knowledgeable and well meaning of friends. And when you do get a "half-answer" on the playground or at a parents' coffee, it is often without any other pertinent information, like a phone number, an address or even a correct spelling."

The concept for All Things Kids came to Kate when she began building and organizing a reference folder for the daily goings-on with her child's activities and events. Then a friend who was moving to the area asked Kate if she would gather some information on local places, activities and community resources like hospitals, police, etc.

"The idea grew from this organizational process. As a graphic designer and writer, I instinctively formatted my initial folder into a designed handbook," says Kate, who was originally from New Canaan, and moved 10 years ago from Los Angeles, where she worked as an art director for Disney Online for over five years. "The directory took me two years to compile and design. It started as an outline on notebook paper, then notebooks full of notes, then formatted pages in a desktop publishing layout program, and finally it all went into a design program where everything was typed and color specified. The design portion of the project took about six months."

Throughout her career, Kate has done freelance design work for companies including Nickelodeon, Hasbro, Chronicle Books, AT&T, IBM, Universal Studios, and AmeriCares. Her excitement about her current endeavor is immediately evident. "In addition to designing the book, I have designed all of the corporate identity of the company, including the logo, business card, ads, flyers, mailers, press releases, etc.," she says.

All Things Kids provides everything Fairfield County parents need to know to help educate, entertain, and take care of their families, including, for example, entries on where to send the kids to school, ideas for a birthday party, and where to get a haircut. Organized by category, the guide includes descriptions, addresses, phone numbers, and websites for child-related schools, programs, businesses, and community organizations.

"The marketing aspect has been really interesting," Kate continues. "I have traditionally been more involved with the design side of projects, but I love the marketing of a product. It's fascinating to me. I have established accounts with 30 stores in Fairfield County —I manage them, do inventory, and restock them. I do my own public relations and promotion as well as produce advertising, mailers, flyers and book signings. It's a lot of work — and I thought creating the book was a job — but what fun it is, and how exciting to see how people respond and how it can help make their daily lives easier and maybe even more enjoyable!"

---
Get Your FREE Indoor Activity eGuide!
---
More Mom Biz Articles
Mompreneur Barbara Kavovit Nails a New Market
Pregnant in Heels: Mompreneur Rosie Pope
Mompreneur Cindy Hartog's Culinary Venture
Mompreneur Cynthia Gibb: Actress Turned Teacher
Mompreneur Rashmi Budhram's Diaper Bags Du Jour

Be a good fellow parent and share this with a friend who would be interested
Local Mom Biz Sponsors
See Our Mom Biz Directory