CLAP for Children will open at the Chinese School of Norwalk this fall to offer more Chinese language classes to kids and adults.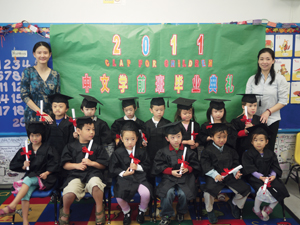 CLAP for Children, a program that offers Chinese language classes for both native and new speakers, will expand from its current center at the Tumble Bugs Day School in Norwalk to the Chinese School of Norwalk. The new 4,000-square-foot facility, expected to open in late September, will host classes for kids in grades pre-K through 12 as well as adult and corporate courses, while the Chinese as Heritage Language Pre-K and Grade 1 classes and the Chinese as a Second Language Level 1 class will remain at the Tumble Bugs Day School.
Owner Yan Mou says she decided to expand her business and staff due to the high demand and enrollment in classes. "With this new facility, we can accommodate families who travel very far to learn," Mou says. "We are a one-of-a-kind program in the area." Experienced teachers use pictures, toys, puppet shows, plays, songs, and physical activities along with acclaimed textbooks to instruct children, keeping them engaged and active in class.
CLAP for Children's new facility is located at 664 Main Avenue in Norwalk. Registration is open for the 2011-2012 school year.
Find more foreign language classes in the NY/CT area