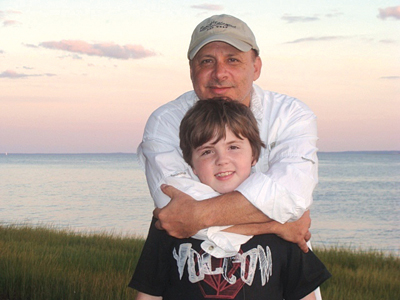 When describing his 11-year-old son, Jon Rothenberg says, "Robbie is a regular kid who is very passionate about his writing." But Robert Jon Hemingway Rothenberg, or Robbie, as he is known to his family and friends, is far from being a regular kid. A fifth grader at Cranbury Elementary School in Norwalk, CT, Robbie, with the help of his father, published his first children's book when he was 9, and the pair is now in the midst of releasing a second book entitled Aunt Yeti and Uncle Eddie under the pen name Robert Jon Hemingway.
Robbie's extraordinary feat is not surprising, given the fact that he is the great-grandson of renowned author Ernest Hemingway. Rothenberg says Hemingway's legacy has been a tremendous influence on his son, and the novel The Old Man and the Sea became a springboard for Robbie's first book, Adventures While I Sleep.
Due out in mid April, Aunt Yeti and Uncle Eddie is an adventure story about two Yetis who follow a family from Montana to Connecticut and try to assimilate into ordinary Fairfield County life. Rothenberg says his son is the force behind the creative concepts in their books. Their first foray into writing, he remembers, happened when Robbie asked him, "What if one day my school were made of chocolate?"
Robbie and his father are working on a new book tentatively titled Bad Breath Betty, which aims to educate its pre-teen readers about hygiene. Aunt Yeti and Uncle Eddie will be available for sale this spring at major bookstores and online at www.amazon.com.