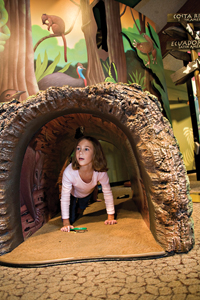 While the word "museum" might not initially set your tot's eyes (or yours, for that matter) aglow with excitement, you both might be surprised at how unstuffy a day at the museum can be.
Check out the locations below in Fairfield County, CT, that cater to the younger crowd, which means they're specially designed to be interactive, colorful, and fun, as well as educational. Some may build on your child's school curriculum while others might introduce something totally new, but each specializes in creating an environment that brings learning and playing together for children-and, of course, their grown-ups are welcome too!
Also see our complete 2011 Guide to Children's Museum Exhibits.
820 Main Street, Bridgeport
203-331-1104
Part of the Fairfield Westchester Museum Alliance. Dedicated to the preservation of Bridgeport's industrial and social history, including the influence of historical resident P.T. Barnum, founder of the Ringling Bros. and Barnum & Bailey Circus.
Open Wednesday-Saturday 10am-4:30pm; Sunday 12-4:30pm. $8; $6 students and seniors; $5 children 4-17; free children under 4.
P. T. Barnum: Bethel to Broadway to Bridgeport: The museum's newest core exhibit guides visitors through P.T. Barnum's long and multifaceted career - from his upbringing in Bethel to his most famous enterprise: P. T. Barnum's Greatest Show On Earth®.
1 Museum Drive, Greenwich
Part of the Fairfield Westchester Museum Alliance. Open Tuesday-Saturday 10am-5pm; Sunday 1-5pm. $7; $6 students and seniors; free children under 5; free individual admission on Tuesdays.
Three Sisters & Corn Maidens: Native American Maize Cultivation & Customs: This exhibit explores the role of corn in the Native American cultures of the Northeast and the Southwest. Objects on display celebrate Zea mays, or Indian corn. Open through June 26.
The museum also has several permanent exhibitions that highlight art, science, and natural history, with a focus on the local area.
The Discovery Museum and Planetarium
4450 Park Avenue, Bridgeport
203-372-3521
Exhibits feature hands-on science and space exploration. Also features a planetarium and Challenger Learning Center.
Open Tuesday-Saturday 10am-5pm; Sunday 12-5pm. $9.50; $8 children 3-17 and students; free children 2 and under.
Giant Worlds: A Voyage to the Outer Solar System: A hands-on exhibit that explores the four largest planets in our solar system: Jupiter, Saturn, Uranus, and Neptune.
Earthplace: The Nature Discovery Center
10 Woodside Lane, Westport
203-227-7253
A 62-acre property with several nature trails, including The Universal Design Nature Trail, which is wheelchair accessible. The center includes hands-on exhibits that educate the public about nature and the environment.
Center open Monday-Saturday 9am-5pm; Sunday 1-4pm. $7; $5 seniors and children 12 and under. Grounds open daily, 7am-dusk (free admission).
Natureplace: A permanent installation featuring the Explorer's Clubhouse, an indoor "treeful" of activities; Nature Lab, a discovery lab full of nature artifacts and activities; Backyard Resource Center, an informational exhibit about the lawns, gardens, and wildlife around your home; and Nature Theater, which features films about animals and nature.
Ecology Resource Lab: Features a collection of small, live local animals, including a tarantula, giant millipede, and Madagascar hissing cockroach.
Animal Hall: Get up close with a collection of small wildlife ranging from bats to bunnies.
Connecticut Birds of Prey: An outdoor enclosure featuring several birds that have sustained injuries and cannot be released back into the wild.
Peabody Museum of Natural History at Yale University
Science Hill section of the Yale campus (Whitney Avenue and Sachem Street), New Haven
203-432-5050
Open Monday-Saturday 10am-5pm; Sunday 12-5pm. $9; $8 seniors; $5 children 3-18 and college students; free individual admission 2-5pm each Thursday (September through June).
Black Holes: Space Warps & Time Twists: Visitors learn about black holes through interactive experiences in this exhibit that's designed like a space mission. Open through May 1.
Fossil Fragments: The Riddle of Human Origins: The exhibit explores the continuing scientific search for human ancestry as well as information on different kinds of humans that lived in the past.
?The museum also features The Great Hall of Dinosaurs; the Hall of Minerals, Earth, and Space; the Hall of Native American Cultures; and the Hall of Mammalian Evolution.
?Past exhibits are available to view online: www.peabody.yale.edu/explore/webexhibs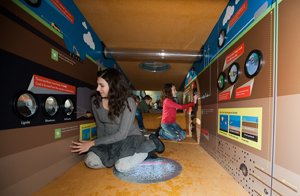 Stepping Stones Museum
303 West Avenue (in Mathews Park), Norwalk
203-899-0606
The museum caters to children 10 and under, with five main galleries and more than 100 hands-on activities. Each month, the museum "travels" around the world and features a different culture - February's programs and performances will highlight Haiti.
Open 10am-5pm daily. $12; $10 seniors; free children under 1.
Build It!: Kids can learn about architectural design and construction using tool belts, trucks, wheelbarrows, and workbenches.
Healthyville: Visitors learn about nutrition, fitness, hygiene, and more about their own bodies through exploration and hands-on activities.
Energy Lab: Learn about the science of energy, including how it's generated from water, wind, and sun.
Rainforest Adventure: Kids learn all about tropical rainforests, including the challenges and opportunities in conserving them and their inhabitants. Open through May.
Ever wonder how these exhibits come together, or what formula the museum's follow to find the perfect balance between learning and fun? Check out Children's Museums: Behind the Exhibits and get the answers, straight from exhibit developers in the New York metro area.