The founder of TagsMania, a Connecticut-based toy company, and his teen daughter received a patent for their newest toy creation, the Tagsdale®.
Paul Oestreicher likes to joke that his project "baby" had a long gestation period. Conceived in 1998 and placed in an inventor's notebook brimming with ideas, Oestreicher finally gave birth to his company TagsMania -- and, with it, a line of plush toys, rattles, and balls made from tags -- in 2009.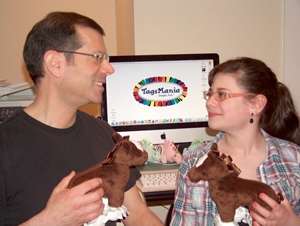 Headquartered in Westport, CT, The company has always been a family affair -- the idea for the toys hit Oestreicher after watching his four daughters favor the tags attached to a toy over the toy itself. Oestreicher and his youngest daughter Rebecca collaborated on the latest tag animal, a Clydesdale horse known as the Tagsdale®, which was awarded a design patent in May.
"I've always loved horses. I find them enchanting," says 13-year-old Rebecca. "I was trying to think of animals with a lot of hairy spots." When the two first began talking about new additions to the TagsMania animal line, which already included a fish (Tagacuda) and dinosaur (Tagasaurus), Oestreicher promised to add Rebecca to the patent as co-inventor if he moved forward with any of her ideas. "When my dad said he would get my name on the patent, I was a little skeptical," says Rebecca. "When he handed me the papers [for the Tagsdale® patent], I was shocked. I had no idea this was coming."
With the success of the Tagsdale®, Rebecca and her father have continued to brainstorm other toy ideas and have several "in the pipeline." The two are tightlipped about additions to the tag animal family, but Oestreicher says he hopes to continue to add to the collection in the future.
For more information on TagsMania toys, visit www.tagsmania.com.