Fairfield County's City of Norwalk, which lies along the Long Island Sound in southwestern Connecticut about 48 miles northeast of New York City, was founded over 370 years ago, and has since counted agriculture, coastal trade, manufacturing, and shipbuilding among its industries. Norwalk was nicknamed "Oyster Town," as oyster farming was its principal industry, and the city continues to be Connecticut's largest oyster producer.

Today, Norwalk plays host to the history buffs, nature-lovers, and kids of all ages who love to explore, experience, and enjoy. Norwalk also boasts a hip and exciting downtown with unique and chic shops, and gourmet as well as kid-friendly, top-rated restaurants where world-renowned chefs work their culinary magic.

There's so much for families to see and do in Norwalk. Here's a sampling of some of the highlights.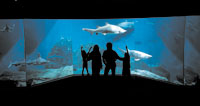 Sharks and Penguins and Turtles, Oh My!
The Maritime Aquarium inspires people of all ages to appreciate Long Island Sound and protect it for future generations. There you can feed the seals and watch sharks, jellies, sea turtles, and more than 1,000 other marine animals. The Aquarium is now host to a very personable group of African penguins that are so undeniable cute that your whole family will surely fall in love with them. While they aren't available for adoption, stuffed versions of the penguins are for sale in the Aquarium's gift shop.

On spring and summer Saturdays, families can take a cruise on the Aquarium's research vessel Oceanic. Sail the waters of Norwalk Harbor and Long Island Sound with the Aquarium's marine science educators to learn about life at the shores and below the surface of the Sound. (Please note that all passengers must be over 42" tall.)

Families can also enjoy a film in the IMAX movie theater. The new IMAX movie developed specifically for young children, Animalopolis, stars singing lions, bears that waltz, sea lions turning somersaults, praying otters, flamingos that squawk, and a calf who'd rather dance than walk.

Where: 10 Water Street.

When: Open seven days, 10am-5pm.

How much: Special value pass includes Aquarium admission, IMAX film, and ride film (featuring the new Dolphin ride). $22.50, children 2-12 $18.50, seniors $21; cruise $20.50.

For more information: 203-852-0700 or www.maritimeaquarium.org.

Imagination Station
Learning and fun go hand in hand at Stepping Stones Museum for Children. With four main galleries, a toddlers-only gallery, and over 100 hands-on activities, Stepping Stones offers children ages 10 and under plenty to explore and discover. There's water splashing, balls clanging, cranks cranking, gears grinding and toucans calling from the rainforest. The new Invention Convention allows children to invent and create in a place designed to spark imaginations. Exploration stations, invention capes, and recycled materials set the stage for young inventors.

Where: 303 West Avenue.

When: Tuesday 1-5pm,? Wednesday-Sunday 10am-5pm. Closed Mondays.

How much: $9, children under 1 FREE, seniors over 62 $7.

For more information: 203-899-0606 or www.steppingstonesmuseum.org.
Mansion of History
Take a tour of Lockwood-Mathews Mansion Museum, one of the earliest and finest surviving Second Empire-style country houses in the United States. The 62-room mansion was built by banker/railroad tycoon LeGrand Lockwood, who in 1864 began construction of his estate on the Norwalk River. Designed by European-trained, New York-based architect Detlef Lienau, the mansion, which was completed in 1868, is considered his most significant surviving work. American craftsmen along with many immigrant artisans were employed in the construction of the house. On a nice day, look for the footpath from the Aquarium along Oyster Shell Park to the grounds of Stepping Stones
Museum for Children and the mansion.

Where: 295 West Avenue.

When: Wednesday-Sunday 12-4pm.

How much: $10, $8 seniors, $6 ages 8-18, FREE under 8.
For more information: 203-838-9799 or www.lockwoodmathewsmansion.com.

Railroad Switch
The SONO Switch Tower Museum is located in the fully restored 1896 Switch Tower in South Norwalk. Railroads once used such towers to house the mechanism for switching trains from one track to another, thereby preventing trains from crashing into each other. These towers were staffed by operators who threw the levers in the tower. Learn about this unique job and all about railroads at the museum.

Where: 77 Washington Street.

When: May-October, Saturday and Sunday, 12-5pm.

How much: FREE (donations appreciated).

For more information: 203-246.6958 or www.westctnrhs.org/towerinfo.htm.
See the Sea
For more family fun on the water, the Norwalk Seaport Association, founded in 1978, is lower Fairfield County's most active nonprofit organization devoted to maritime preservation, education, and the area's seafaring heritage. From May through September, visitors can board the Association's 42-foot G.W. Tyler ferry for a cruise to the island, where they can tour the lighthouse, observe wildlife in its natural habitat, hunt for shells along the beach, have a picnic lunch, and play on the lawns around the lighthouse. The lighthouse tower provides magnificent views of Long Island Sound and, on a clear day, of the New York City skyline. Another island attraction is a nature trail completed by the Seaport Association in cooperation with the U.S. Fish and Wildlife Service. From a viewing platform, a variety of wildlife including nesting herons and other birds can be observed.

This year, September 11-13, the 2009 Seaport Oyster Festival, an annual event since 1978, will feature an international food court; arts and crafts; vintage vessels and harbor cruises; children's games, rides, and activities; Sundays specials; and top-rated entertainment.

Where: 132 Water Street.

When: Departure times daily from 11am-6:30pm.

How much: $20, children 12 and under $12, children 3 and under $5.

For more information: 203-838-9444 or www.seaport.org.
SoNo, So Good
Both Stepping Stones Museum and the Maritime Aquarium offer family-friendly dining options and well-stocked gift shops. If you want to venture outside of the museums for a meal, the area in Norwalk known as SoNo boasts chic shops and dining establishments of a wide range of budget and taste. There's something for everyone at Brewhouse Restaurant (just steps from the Maritime Aquarium), or at Match, known for it's mouth-watering pizza. Parents can get their caffeine fix at the aptly named Sono Caffeine, while my kid's favorite is Sweet Rexie's, a brightly colored shop filled with sugary delights. Right around the corner, Chocopologie will fill your craving for anything chocolate.

Where:
Brewhouse Restaurant, 13 Marshall Street. 203-853-9110.
Match, 98 Washington Street. 203-852-1088.
Sono Caffeine, 133 Washington Street. 203-857-4224.
Sweet Rexie's, 136 Washington Street. 203-853-2513.
Chocopologie, 12 South Main Street. 203-854-4754.

If You Go
How to get there: This area of Norwalk is easily accessed by MetroNorth (South Norwalk station). By car, take Exit 15 off I-95 and the Merritt Parkway.
Parking: Ample parking in the garage located opposite the Maritime Aquarium and in the lot at Stepping Stones and Lockwood Mathews Mansion.

For more information: www.norwalkct.org.