Check out our roundup of the best family events happening this December in Fairfield County, CT. Whether you're looking for a kid-friendly show or a way to celebrate the holidays, we've got all the information you need.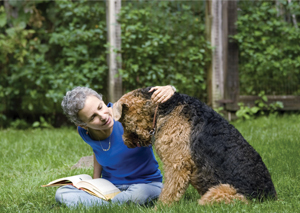 Meet a Newbury Winner
Award-winning children's author Gail Carson Levine visits the Wilton Library. The author of Ella Enchanted and Betsy Who Cried Wolf discusses her new book, Betsy Red Hoodie, and signs autographs. Books are available for purchase and benefit the Wilton Library and Elm Street Books. December 4. 2-3pm. FREE. The Wilton Library, 137 Old Ridgefield Road, Wilton. 203-762-3950.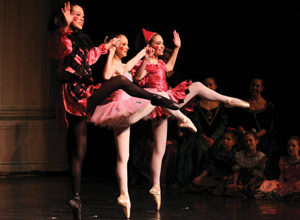 Light on Their Feet
Westport Academy of Dance presents a full length production of The Nutcracker. The performance takes place at Staples High School. Set to Tchaikovsky's music, 100 children ages 6-18 perform alongside guest artists and professionals. December 4, 3pm and 7pm; December 5, 2pm. $25; $15 students and seniors. Staples High School, 70 North Avenue, Westport. 203-226-9987.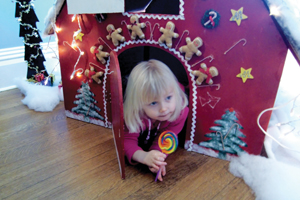 Santa and Friends
Santa makes his way around Fairfield County this month, giving kids of all ages the opportunity to report their good behavior and maybe make a request or two.
Santa proves he's agile in Heights and Lights, Rappelling Santa and Holiday Tree Lighting. Watch Santa as he makes his way down one of the tallest buildings in Stamford, then leads the way to Latham Park for live music and the annual lighting of Stamford's holiday tree. December 5. 4:30pm. FREE. Landmark Square, Stamford. 203-348-5285.
At the Winter Wonderland Festival, listen to holiday stories, make crafts, follow a model train through a miniature version of New Canaan, warm up by the campfire, and have a photo taken with Santa. December 11. 11am-3pm. $10 per child. Photo with Santa costs extra. New Canaan Nature Center, 144 Oenoke Ridge, New Canaan. 203-966-9577.
The Burr Homestead is transformed in A Visit to Santa's House. Meet Mr. and Mrs. Claus and visit rooms with model trains, face painting, crafts, tattoos, and more. Sponsored by the Junior Women's Club of Fairfield. Proceeds benefit Brady's Smile, providing support to families with children in the NICU and PICU. December 11, 10am-4pm; December 12, 10am-2pm. $6; $2 children 2 and up. Burr Homestead, 739 Old Post Road, Fairfield.
Wilton Historical Society offers the chance for children to sit on Santa's lap for a request and a photo in A Visit with Santa. December 11, 1-4pm. $10 per family. Wilton Historical Society, 224 Danbury Road, Wilton. 203-762-7257.
Visit with Frosty, the Gingerbread Man, Father Frost, and of course, Santa at The North Pole Comes to Stepping Stones. December 20, 11am; December 21-23, 11am and 2pm. $9; free children under 1. The Stepping Stones Museum, 303 West Avenue, Norwalk. 203-899-0606.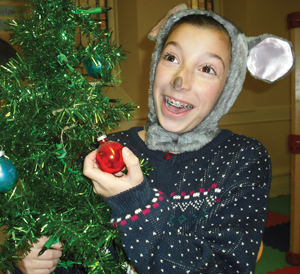 A Christmas Mouse Tale
The Center Stage Theatre Company's new division, Sweet Stages, targets audiences ages 3 and up. Its first production is the original musical The Chrismouse Story, about a mouse named Chris who lives in an attic with his mouse family. His holiday spirit is sparked by observing the human family living below as they prepare for Christmas. Make a mouse keepsake to take home at the free workshop after the show. December 11. 11am and 2pm. $15. For reservations, email [email protected]. Center Stage Theatre Company, The Seabury Center, 45 Church Lane, Westport. 203-341-9659.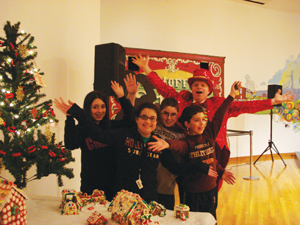 Holiday Traditions
An author visit, a celebration of diverse winter traditions, crafts, and a contest are all on the agenda in The Barnum Holiday Fest and Gingerbread Contest. Journalist and author Diane Smith talks about celebrating the holidays in a quintessential New England State in her new book A Connecticut Christmas. Afterwards, children learn about the traditions associated with Christmas, Hanukkah, Kawnzaa, and the Mexican holiday, Las Posadas. Hot chocolate and cookies round out the day. The winner of the Create a Gingerbread Village Contest will be announced. Children under 12 should plan ahead to participate in the contest. Check the website for details and prizes. December 11. 1-3pm. $8; $5 children ages 4-17; free children under 4. The Barnum Museum, 820 Main Street, Bridgeport. 203-331-1104. www.barnum-museum.org.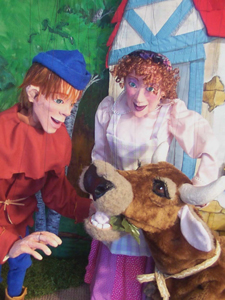 A Tall Tale
The tale of Jack and the Beanstalk comes to life with 15 hand-crafted marionettes who perform the story about Jack, his magic beans, and his run-in with the Giant. December 11 at 2pm, 4pm, and 6pm. $15. Reservations required. Register online or call ext. 18. Greenwich Historical Society, 39 Strickland Road, Greenwich, CT. 203-869-6899 (ext. 18 for tickets).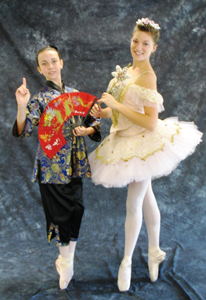 Young Performers
More than 100 students ages 6 to 17 perform in the Connecticut Dance School's The Nutcracker at the Quick Center on the campus of Fairfield University. Each year the production adds new elements of choreography, costumes, and scenery. This is the 17th year that Alan Woodard, director of the Connecticut Dance School, has choreographed, cast, coached, and staged this production. December 12. 1pm and 4pm. $40; $25 seniors, children, and students. The Quick Center, 1073 North Benson Road, Fairfield. 203-254-4010.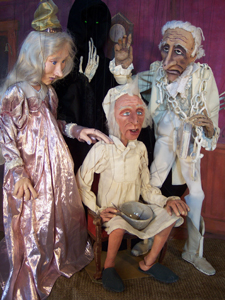 Puppets Perform
Charles Dickens's holiday story comes to life when 15 large-scale marionettes perform Scrooge, a Christmas Tale Marionette Show. Travel through time with Scrooge as he comes face to face with his past, present, and future. December 19. 1pm and 3pm. $18. Wilton High School Little Theater, 395 Danbury Road, Wilton. 203-762-7257. www.wiltonhistorical.org.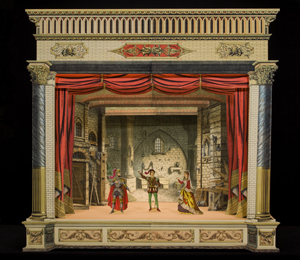 All the World's a Stage
In the 19th century, children entertained themselves by putting on their own plays in paper theaters. A Child's View: 19th Century Paper Theaters is a display of 35 miniature theaters from around the world. During the exhibit there are two child-friendly activities. The first is "Paper Theaters Family Day," when visitors explore the exhibition with a gallery hunt, create a character in the workshop, and watch Joe Galdwin and his Paperplays Puppet Theater; December 12, 1-4pm. FREE with admission. Children in grades 1-3 can take a "December Vacation Workshop," when they explore the exhibit and create a different craft each day. December 28-30, 10:30-11:30am. $7 per day. The exhibit runs October 30, 2010 through January 30, 2011. Museum admission: $7; $6 students; free children under 5. The Bruce Museum, 1 Museum Drive, Greenwich. 203-869-00376.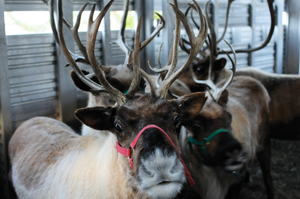 Up Close with Reindeer
Come to the 2010 Greenwich Reindeer Festival and Santa's Workshop to feed the reindeer and have your picture taken with Santa. Proceeds benefit Kids in Crisis. November 26 through December 24. Check the website for times. Photo packages begin at $29.99. McArdle's Florist and Garden Center, 48 Arch Street, Greenwich. 203-531-3047.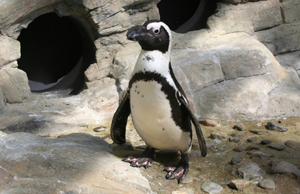 Up Close with Penguins
Get a closer look at the aquarium's African penguins when you sign up for All Access, a backstage tour of the exhibit, which closes in January. Learn about African penguins and other species, how to care for them, and all about the exhibit's special design. The penguins can be seen and heard through a stage door. Offered weekends November 26 through December 19 and daily December 26 through January 2, 2011. $32.50 (includes admission to the aquarium). Tours start at 9am. Maritime Aquarium, 10 North Water Street, Norwalk, CT. 203-852-0700.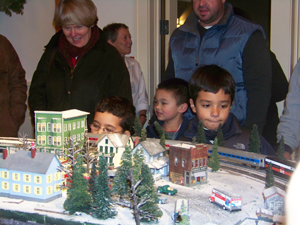 Tiny Trains
The annual Holiday Express Train Show at the Fairfield Museum and History Center is a festive display with tracks that wind around a town decorated for the holidays. A camera perched atop the train offers viewers a glimpse of what it would be like to actually be a passenger. Check the website for related activities and specific times. December 3, 2010 through January 2, 2011. $5; $3 ages 6-22; free children under 6. The Fairfield Museum and History Center, 370 Beach Road, Fairfield. 203-259-1598.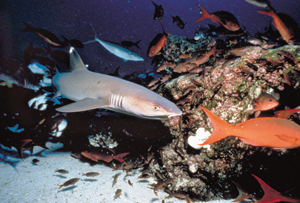 Up Close with Sharks
In the Imax film Island of Sharks, two underwater filmmakers explore Costa Rica's Cocos Island, a rich source for observing an immense variety of sharks including white tip reef sharks, 40-foot whale sharks, large schools of hammerheads, and more. Through March 3, 2011. 11am, 1pm, and 3pm daily. $9; $6.50 children ages 2-12. The Maritime Aquarium, 10 North Water Street, Norwalk. 203-852-0700.
Also see: Family-friendly Holiday Shows playing in Fairfield this December
Our Online Calendar for even more family events in Fairfield County, CT, and the New York metro area