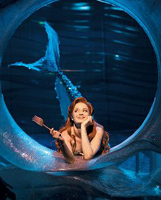 Ladies Light Up the Stage
Children will be inspired by the strong female characters featured in February's theater choices. Ariel, Belle, Charlotte, Gretel, Laura, and Strega Nona face down any challenges they encounter with spirit, humor, and, when things get really tough, a song or two.
Michelle Mallardi, who played Belle on Broadway, directs Beauty and the Beast for the Center Stage Theatre Company. February 4, 7pm; February 5, 7pm; February 6, 1pm and 6pm; February 7, 12pm and 4pm. $15. The Seabury Center, 45 Church Lane, Westport. 203-341-9659. www.centerstagetheatrecompany.com.
Anyone who has read her books won't want to miss Laura Ingalls Wilder, a musical production playing at the Westport Country Playhouse. February 7 at 1pm and 4pm. Later in the month, everyone's favorite spider spins her web in Charlotte's Web. February 28 at 1pm and 4pm. Tickets for each are $16. Both productions are at Westport Country Playhouse, 25 Powers Court, Westport. 203-227-4177. www.westportplayhouse.org.
Tomie dePaola's Italian witch comes to life in a musical version of Strega Nona at the Quick Center for the Arts. February 21 at 1pm and 3pm, February 22 at 10am. Sunday $15, $12 children; Monday $7. Fairfield University, 1073 North Benson Road, Fairfield. 203-254-4010. www.quickcenter.com.
The Grimms' classic tale adds a twist in this rocking production of Hansel & Gretel at the Downtown Cabaret Theatre. Every Saturday and Sunday through February 21. 12pm and 2:30pm. $15.50. The Downtown Cabaret Theatre, 263 Golden Hill Street, Bridgeport. 203-576-1636. www.downtowncabaret.org.
The Ridgefield Playhouse presents The Little Mermaid. February 27 at 2pm. $15. The Ridgefield Playhouse, 80 East Ridge Avenue, Ridgefield. 203-438-5795. www.ridgefieldplayhouse.org.
See one, see them all - there's something to please every taste, not to mention a host of positive role models for young audiences.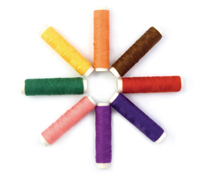 Children's Cross-Stitch
Children in grades 3-5 are invited to this 2-part program. The first session will teach the basic stitches on a small sampler which can be framed, used as a greeting card insert, or as a coaster. The second session follows up with a show-and-tell of the finished product, helping with problems, and advising on further study. On-site registration at the Children's Library required. February 3 at 4pm. Age: YE. $3 supply fee. Wilton Library, 137 Old Ridgefield Road, Wilton. 203-762-3950. www.wiltonlibrary.org.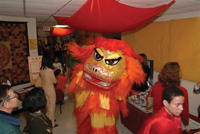 Chinese New Year Festival
The Chinese Language School of Connecticut rings in the Year of the Tiger with an authentic Chinese buffet, a dragon dance, lion dance, martial artists, crafts for children, a professional dance troupe, an award-winning Chinese YoYo troupe, and more. February 7 at 12pm. All ages. Stamford Plaza Hotel and Conference Center, 2701 Summer Street, Stamford. 866-301-4906. www.ChineseLanguageSchool.org.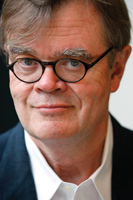 Lake Wobegon Comes to Fairfield in HD
An encore presentation of A Prairie Home Companion in HD, a show taped on February 4 in Minnesota, will be broadcast on screen at the Quick Center. Put a face to the voices of regular cast members and characters like Guy Noir, Dusty Left, Garrison Keillor, Sue Scott, Tim Russell, and sound-effects wizards Tom Keith and Fred Newman. A Prairie Home Companion has been broadcast on NPR for 35 years and reaches over four million people across the country each week. Advanced tickets required. February 9 at 7pm. $18, $16 seniors, $12 children and students. Quick Center for the Arts, Fairfield University, 1073 North Benson Road, Fairfield. 203-254-4010. www.quickcenter.com.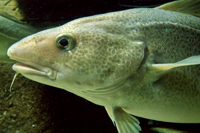 Something New and Fishy
A new permanent exhibit opens February 12 at the Maritime Aquarium. Go Fish: Long Island Sound & Beyond hopes to promote respect for fish through a fascination with catching, eating, and protecting them. The exhibit focuses on the connections between humans and fish through a variety of hands-on and multimedia experiences. A new 30,000-gallon tank houses such specimens as a seven-foot Atlantic halibut, the largest species of flatfish on our coast. Others species include striped bass, wolffish, cod, spiny dogfish shark, and more. Included with general admission: $11.75, $9.75 children 2-12, $10.75 seniors. Maritime Aquarium, 10 North Water Street, Norwalk. 203-852-0700. www.maritimeaquarium.org.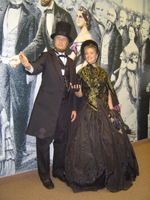 Abe Lincoln Comes to Life
To introduce the Bruce Museum's new exhibit on Abraham Lincoln, the museum presents Lincoln, Life-Size Family Day Celebration. Explore the exhibition with a gallery hunt and make a stovepipe hat mailbox. Civil War re-enactors in period dress will describe what it was like to be a Union soldier during the war. At 3pm, impersonators will recount Abraham and Mary Todd Lincoln's life in the White House. Suggested for ages 5 and up. February 13, 1-4pm. Free with admission: $7; $6 students and seniors; FREE children under 5. Bruce Museum, One Museum Drive, Greenwich. 203-869-0376. www.brucemuseum.org.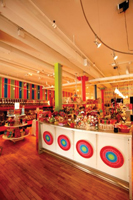 Candy, Cookies, and Chocolates
Sweet Rexie's is offering several Valentine's Day workshops at their new location in downtown Fairfield to satisfy any sweet tooth. Here's what on the roster, recommended for ages 5-12. Create a Candy Craft, February 13, 11am; $30. Decorate cookies, February 14, 11am; $20. Decorate a heart-shaped cake, February 14, 3pm; $35. Chocoholics Buffet, February 14, 6pm; $10, children $5. Advanced reservations required. Sweet Rexies, 1552 Post Road, Fairfield. 203-254-3254. www.sweetrexies.com.
In Love with Gershwin
Voices and soloists from the Greenwich Choral Society join forces with the Ryan Keberle Jazz Orchestra to create the big band sound in A Gershwin Valentine. Funds from the benefit concert and silent auction will be used to help underwrite the costs of Greenwich Choral Society's annual concert production, scholarship program, and educational outreach. February 14: silent auction at 3pm, concert at 4pm. $25-$35; kids under 12 FREE. Norwalk Concert Hall, 125 East Avenue, Norwalk. 203-622-5136. www.greenwichchoralsociety.org.
Travel to Brazil
Each month Stepping Stones Museum visits a new country in its Around the World program. Children come to the museum, receive their very own passport, and have it stamped. February's destination is Brazil, with activities highlighting traditions and characteristics of that country. February 15-19 11am, 1pm, and 3pm. February 20 at 2:30pm. $9. Some activities require a $3 materials fee. Children under 1 FREE. Stepping Stones Museum, 303 West Avenue, Norwalk. 203-899-0606. steppingstonesmuseum.org.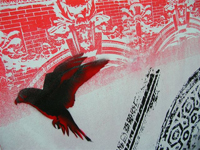 Beautiful Printmaking
Artists from the Loft Artists Association will share various techniques and inspirations for Print What?!, an exhibit of their monoprints, etchings, photographs, lithographs and screen prints. Two days of workshops allow visitors to observe demonstrations and try their hands at printing. The exhibit runs February 19 through March 21; opening reception February 19, 6-9pm. Regular gallery hours Friday-Sunday, 12-4pm. Weekend workshops: February 27 and March 13, 1-4pm. Free parking. $5 suggested donation. Loft Artists Gallery, 845 Canal Street, Stamford. 203-323-4153. www.loftaftists.com.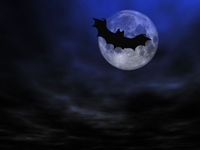 Creature Feature
Certain animals survive best when it's dark. Find out which ones wake up at night at the Bruce Museum's Animals of the Night Family Day. Make a night-creature craft in the workshop. February 21, 1-4pm. At 2pm and 4pm Rob Mies presents a live bat encounter and provides information on the benefits of bats. $7, seniors and students ages 5-22 $5. Bruce Museum, One Museum Drive, Greenwich. 203-869-0376. www.brucemuseum.org.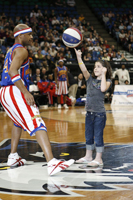 High Jinx on the Court
The Harlem Globetrotters, who actually originated in Chicago 84 years ago and were never from New York, will be making their way to Bridgeport for their Harlem Globetrotters 2010 World Tour. Ranging in height from 5'10" to 6'9", the players have entertained all over the world with their humor, audience engagement, and gravity-defying ball skills. February 27, 2pm and 7pm. $25.25-$129.25. Arena at Harbor Hard, 600 Main Street, Bridgeport. www.arentattheharboryard.com. Tickets available at www.ticketmaster.com or by calling 800-745-3000.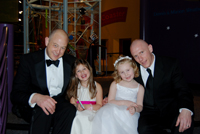 All Dressed Up
Stepping Stones second annual Winter Wonderland Children's Ball follows up the success of last year with food, dance, and art activities. Children and parents are encouraged to come dressed in fancy attire as they participate in ballroom dance lessons, decorate crowns, build castles, and design picture frames. Photos will be taken for souvenirs, and hors d'oeuvres will be served. Reservations required. February 27, 6pm. $12. Stepping Stones Museum for Children, 303 West Avenue, Norwalk. 203-899-0606 ext 247. www.steppingstonesmuseum.org.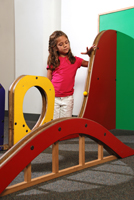 What a Ride
Physics and fun come together in the Discovery Museum's Amusement Park Science exhibit. This interactive exhibition offers 12 hands-on activities including create-a-coaster, bumper blaster, wacky waves, and active video kiosks. Through April 18. Tuesday-Saturday 10am-5pm; Sunday 12pm-5pm. $8.50; $7 students, seniors, and children over 5. The Discovery Museum and Planetarium, 4450 Park Avenue, Bridgeport. 203-372-3521. www.discoverymuseum.org.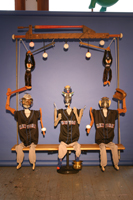 Art in Motion
Steve Gerberich displays his creations in Gerberich Gadgetry, an exhibition using old machine parts, kitchen utensils, pieces of furniture, lighting fixtures, medical supplies, toys, and carnival figurines, Gerberich offers a unique way to view his art through interaction, exploration, and mechanical motion. Included is "Bells and Whistler," in which "Alexander Graham Bell meets Whistler's Mother via a cacophony of sounds contained in an Deco china closet." Through May 23. Monday-Saturday 9am-5pm; Sunday 11am-5pm. $8; $6 seniors and students; $4 children 4-18. The Stamford Museum and Nature Center, Bendel Mansion, 39 Scofieldtown Road, Stamford. 203-322-1646. www.stamfordmuseum.org.