Willy Wonka Jr. on Stage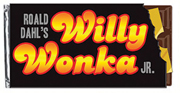 One of Roald Dahl's most popular books will be presented as a musical on stage at the Westport Country Playhouse. Produced by the Music Theatre of Connecticut, Willy Wonka Jr. features Anthony Newly's songs from the movie, including "The Candy Man," "Oopma Loompa," and "I Want it Now." Adapted for the stage by Leslie Bricusse and Tim McDonald; based on the book Charlie and the Chocolate Factory. January 8 at 7:30pm, January 9 at 2pm. Tickets start at $15, $12 students. Westport Country Playhouse, 25 Powers Court, Westport. 203-454-3883. www.musictheatreofct.com.
All About Mars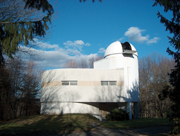 Mars: The Red Planet kicks off the Stamford Museum and Nature Center's "Astronomy Nights" series. Why is the planet red? How long is a Martian day? Does Mars have seasons? What makes Mars the most Earth-like planet in the solar system? Following the presentation there will be an opportunity to view the night sky on a 22-inch telescope, weather permitting. January 8, 7pm. $3, children 4-17 $2, FREE for 3 and under. The Observatory at the Stamford Museum and Nature Center, 39 Scofieldtown Road, Stamford. 203-322-1646. www.stamfordmuseum.org.
Travel to India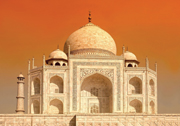 Each month Stepping Stones Museum will visit a new country in its Around the World program. Children will receive their very own passport and have it stamped. January's destination is India and activities will highlight traditions and characteristics of that country. On January 16, Anindita Nanda teaches the dance and culture of India in a "Dances of India" workshop. Both programs 2:30-3:30pm. $9; free children under 1. Stepping Stones Museum, 303 West Avenue, Norwalk. 203-899-0606. www.steppingstonesmuseum.org.
New Tricks for Old Dogs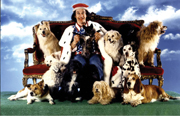 Rescue dogs show their comic and acrobatic chops in Johnny Peers and the Muttville Comix at the Ridgefield Playhouse. Fifteen dogs rescued by Peers climb ladders, jump rope, skateboard, walk the tightrope, and clown around with their trainer. Johnny Peers, inspired by Charlie Chaplin, established his canine comedy troupe in 1980. The Muttville Comix have appeared in Ringling Brothers and Barnum and Bailey Circus and on David Letterman. January 16, 11am and 2pm. $15. Ridgefield Playhouse, 80 East Ridge Avenue, Ridgefield. 203-438-5795. www.ridgefieldplayhouse.org.
Family Fun Night with Clifford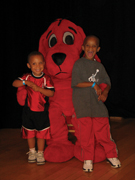 Clifford was written by Normal Bridwell in 1963 and the series featuring the friendly dog has remained popular over the years. The Big Red Dog will host Stepping Stones Museum's Family Fun Night. Enjoy dinner, hands-on activities, story time, and a photo with Clifford. January 22, 6pm. $12; children under 1 FREE. Call for reservations. Stepping Stones Museum, Matthews Park, 303 West Avenue, Norwalk. 203-899-0606. www.steppingstonesmuseum.org.
Daredevils on Two Wheels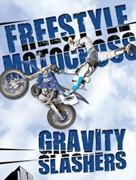 While it is a competitive sport, freestyle motocross is also an acrobatic performance, as you'll witness in Gravity Slashers, at the Arena at Harbor Yard. Riders launch their bikes off ramps that propel them towards the rafters, performing acrobatic moves as they soar through the arena airspace. You'll become familiar with such moves as Cliffhangers, Sterilizers, Tsunamis, and Hart Attacks. This is the only time you'll catch this performance in Connecticut this year. January 22-23, 7:30pm. $25.25, kids 2-12 $20.25. Arena at Harbor Yard, 600 Main Street, Bridgeport. Tickets available at ticketmaster.com or by calling 800-745-3000. Also through the CLICK OR TICKET box office at www.arenaatharborhard.com.
The Cat in the Hat is Back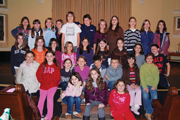 Center Stage Theatre Company is proud to present Seussical, a musical based on the books of Dr. Seuss and produced on Broadway in 2000. The production is one in which "...the powers of friendship, loyalty, family and community are challenged and emerge triumphant...," with a cast comprised of children from the area. Music by Stephen Flaherty, lyrics by Lynn Ahrens. January 22, 7pm; January 23, 1pm and 7pm; January 24, 1pm. All ages. $15, $10 students and seniors. The Seabury Center, 45 Church Lane, Westport. For tickets, call 203-341-9659. www.centerstagetheatrecompany.com.
Girl's Club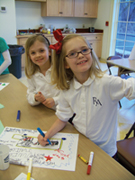 On January 27, girls 8 and over can bring their historic dolls to the Fairfield Museum and History Center and learn what activities they might have done had they lived in the past. Participants will sew, bead, cook, make books, and more. Starts at 4:30pm. Ages: YE, TW. $15; caregivers free. 370 Beach Road, Fairfield. Pre-register by calling 203-259-1598. www.fairfieldhistoricalsociety.org.
Sea Squirts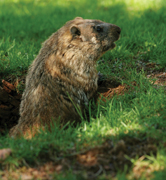 On January 28 children are invited to the Connecticut Audubon Society Coastal Center at Milford Point to make puppets and learn what happens when the groundhog sees his shadow. 10:30am. Age: TOD. $15 for one child and one adult; $5 per additional child. 1 Milford Point Road, Milford. 203-878-7440. www.ctaudubon.org/visit/milford.htm.
Films with a Conscience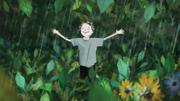 The Norwalk Seaport Association is hosting a Wild and Scenic Environmental Film Festival, in two sessions held at the Dolce Center. The afternoon session is geared for grades 3-6 and will feature short films ranging in length from one to nine minutes. Included will be Chicken of the Sea, Once upon a Tide, and the animated films Gorilla in the Greenhouse and Wombat. An evening session is for grade 7-adult with film times ranging from two to 22 minutes. Highlights include Sand Dancer, in which a New Zealand beach is the canvas for Peter Donnelly's vast artworks that are washed away by the tide, and I Met the Walrus, the 1969 interview taped with John Lennon by a 14-year-old Beatles fanatic. Refreshments will be served at the evening screening. January 29. 4-5:30pm grades 3-6; $10. 7-10pm grade 7-adult; $25. The Dolce Center, 32 Weed Avenue, Norwalk. For reservations: 203-838-9444 or www.seaport.org.
Evening Stroll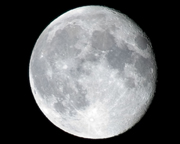 The Audubon Society of Greenwich will guide a tour around Mead Lake. On the Full Moon Walk, experience the sounds of ice shifting, hooting owls, coyotes, and other wildlife. Dress warmly with soft, quiet outer layers. January 30, 6pm. $5, $3 children and seniors. Ages 7 and up. RSVP required. Greenwich Audubon, 613 Riversville Road, Greenwich. Contact Ted at 203-869-5272 x230. www.greenwich.audubon.org.
Graffiti at the Quick Center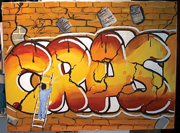 John Crash' Matos's early years in the South Bronx have since informed his art, which will be displayed at the Thomas J. Walsh Art Gallery in the Quick Center on the Fairfield University Campus. The Art of John 'Crash' Matos has the bold colors of Pop Art and the immediacy of Abstract Expressionism. Included in the exhibition will be hand-painted guitars (five for Eric Clapton), hand-painted pottery, a lobby display of photos of his artwork on subway trains, and a retrospective of his paintings. Also on view will be a spray-painted mural, a joint project by Matos and a group of Bridgeport high school students. January 28-February 28. Tuesday-Saturday 11am-5pm, Sunday 12-4pm. FREE. Fairfield University, 1073 N. Benson Road, Fairfield. 203-254-4000, ext. 2969. www.fairfield.edu/arts/qc_walsh.html.