Check out these great family events happening this June in Fairfield County, CT.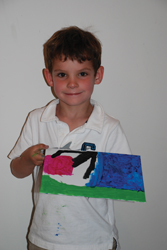 Art Stroll
Art painted by local artists of all ages is on display at Paint Rowayton Art Walk and Show. Stroll along Rowayton Avenue while you enjoy music by blues guitarist Dan Stevens. June 4. 5pm. FREE. Rowayton Arts Center, 145 Rowayton Avenue, Rowayton, CT.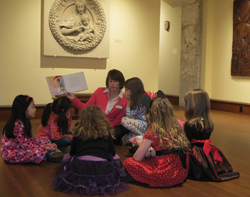 Museum Moment
Take advantage of Family Day at Bellarmine Museum. This monthly program offers an arts and crafts workshop throughout the day, educational tours geared towards children, and a story in the gallery. June 11, noon-5pm. FREE. Bellarmine Museum of Art, 1073 North Benson Road, Fairfield, CT.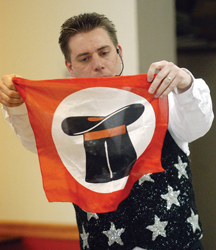 Out of the Hat
Magician Steve Woyce's sidekicks are a silly gorilla, a mind-reading snake, and Henry the Magic Rabbit, all together in One World, Many Magical Stories. The show takes the audience on a magical journey around the world. June 11. 2:30-3:30pm. FREE. Westport Library, 20 Jesup Road, Westport, CT. 203-291-4810.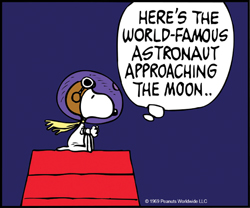 Snoopy Soars
A large-scale model of a lunar landing module from the Apollo 10 mission, nicknamed Snoopy, is on display at the Stamford Museum and Nature Center, June 18-August 21. The exhibit, To the Moon: Snoopy Soars with NASA, explores astronomy and space exploration. $10; $5 children 4-17; free children 3 and under. 39 Scofieldtown Road, Stamford, CT.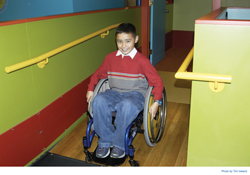 An Exhibit to Foster Understanding
Stepping Stones Museum for Children's interactive exhibit Access/Ability promotes awareness of disabilities while celebrating the different capabilities in everyone and encouraging open questioning. June 18-September 1. Museum hours 10am-5pm. $12, under 1 FREE. Stepping Stones Museum for Children, Mathews Park, 303 West Avenue, Norwalk, CT.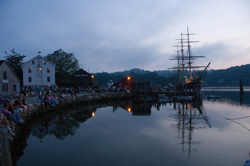 Sunset Concert
A picnic dinner is the perfect accompaniment to the sounds of Wycliffe Gordon and his quintet in this River Jazz concert. June 18 (rain date June 19). 7-10pm (doors open 6pm). $17, children $10. Mystic Seaport, 75 Greenmanville Avenue, Mystic, CT. 888-973-2767.
Sounds from Down Under
This month Stepping Stones Museum's around the world theme is Australia. Don't miss didgeridoo player A.J. Block, who performs on the instrument native to Australia and made from locally-sourced materials like eucalyptus, bamboo, and agave. June 19. 2pm. $12, under 1 FREE. Stepping Stones Museum, Mathews Park, 303 West Avenue, Norwalk, CT.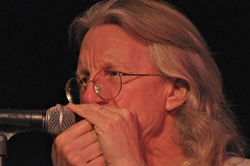 Jam at the Library
Peter Madcat Ruth has a way with the harmonica. He'll play a variety of formats including blues, folk, music, jazz, country, and rock and roll during a Summer Solstice Concert, June 20 at 6pm. FREE. Wilton Library, 137 Old Ridgefield Road, Wilton, CT.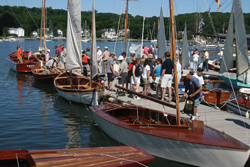 Sail Away
Yankee Magazine describes the Wooden Boat Show as "one of Connecticut's Top 20 events for the summer." See more than 100 classic and contemporary wooden boats. June 24-26. 9am-5pm. $24, children 6-17 $15, under 6 FREE. Mystic Seaport, Mystic Seaport, 75 Greenmanville Avenue, Mystic, CT.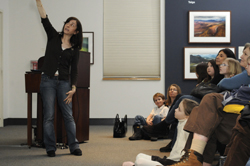 Approachable Art
Family trips to museums can be stressful, partly due to the fact that children can't always appreciate what they're looking at. The Diane W. Darst Family Art Appreciation Lecture Series is an education program designed especially for families to give them a better understanding of current exhibitions at the Bruce Museum. This month it's Learning to Look at Picasso and Printmaking. June 26. 1-3pm. $7, students and seniors $6, under 5 FREE. The Bruce Museum, 1 Museum Drive, Greenwich, CT. 203-869-0376.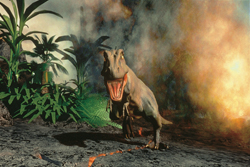 Dinosaur Trifecta
It's all dinosaurs all the time this summer at the Maritime Aquarium. With Dinosaur Summer, you can view friendly life-sized robotic dinosaurs moving, roaring, and blinking their eyes. Learn how they grew so large, what they ate, and how they were protected from danger. Dino Island II: Escape from Dinosaur Island is a 3D simulator ride-film about a team of scientists trying to save prehistoric animals from an island about to be destroyed by a volcano. Riders encounter fast-moving lava flows and angry dinosaurs. The programs are in conjunction with the IMAX film T-Rex: Back to the Cretaceous (May 26-September 5). Dinosaur Summer and Dino Island II run June 18-September 5, 10am-5pm. Aquarium admission and 3D ride $19.20, $16.20 ages 2-12. 10 North Water Street, Norwalk, CT.
Also see: Celebrate Connecticut Trails Day with Your Family
Our Online Calendar, for even more upcoming family events in Fairfield County, CT and the New York City area