Related: Fairfield, County, CT, Connecticut, activities, events, kids, families, children, calendar, highlights, June, 2010, shows, theater, museum, outdoor, nature, Stamford, Westport, Bridgeport, Mystic,




Check out these great activities and events for children and families scheduled during the month of June in Fairfield County, CT. Whether you're looking to celebrate Father's Day, catch a kid-friendly show, or just enjoy the great outdoors, we've got all the information a Fairfield County family needs.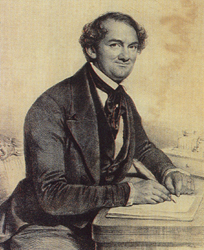 All About Barnum
On June 6, a new exhibit opens at the Barnum Museum in Bridgeport and reveals even more about the life of P.T. Barnum. In "The Man, The Myth, The Legend: P.T. Barnum Highlights Tour," visitors can learn many stories of P.T. Barnum's long and busy life as they stroll through the new exhibition gallery outfitted with new displays of Barnum artifacts.
All ages. Museum admission: $8; $5 children 4-17; free children under 4. Barnum Museum, 820 Main Street in Bridgeport. For more info: 203-331-1104 or www.barnum-museum.org.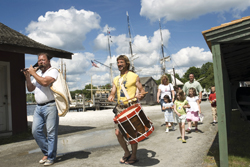 Ahoy, Matey
Maritime music both new and old provides background sound for the 31st annual Sea Music Festival at Mystic Seaport. Take part in themed workshops and demonstrations aboard tall ships as well as on the museum grounds, all designed for a young audience. Create paper hats, banners, and musical instruments to wear in the children's parade on Sunday at 2:45. June 10-13, 9am-5pm. $24, $15 kids 6-17; free children under 5. Mystic Seaport, 75 Greenmanville Avenue, Mystic. 860-572-5315. www.mysticseaport.org.
Rainbow Fish and Friends
Marcus Pfister's Rainbow Fish comes alive as a puppet presentation created by Robert Rogers Puppet Company. The marionettes play hide and seek and accidentally lead Rainbow Fish into dangerous and mysterious waters. June 12. 2:30-3:30pm. FREE. Westport Library, 20 Jesup Road, Westport. 203- 291-4840. www.westportlibrary.org.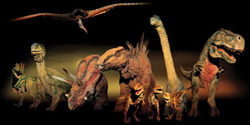 Don't Get Stepped On
Fifteen life-sized dinosaurs come to life in Walking with Dinosaurs, based on the award-winning BBC TV series. Learn the story of the dinosaurs' 200-million-year domination of life on earth and watch as these life-like reproductions walk, roar and fight for survival and supremacy. June 15 at 7pm, June 16 at 3pm and 7pm. $26-$56. Arena at Harbor Yard, 600 Main Street, Bridgeport. 203-345-2300. www.arenaatharboryard.com.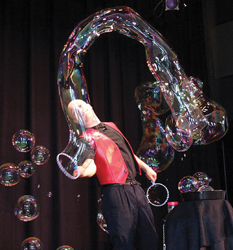 Bubbles, Bubbles, Everywhere!
Casey Carle has a way with bubbles. Catch his performance, "Bubblemania: Comedy with a Drip" on June 19 at the main branch of the Greenwich Public Library. Carle will get creative with giant, floating, and bouncing bubbles in this soapy, interactive show for ages 4 and up. Raffles and refreshments will follow the performance. Starts at 2pm. FREE.
Greenwich Library, 101 West Putnam Avenue in Greenwich. For more information: 203-622-7940 or www.greenwichlibrary.org.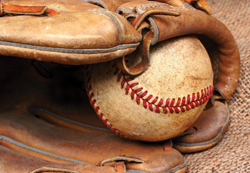 Don't Forget Dad!
In honor of her father, who raised six children by himself after his wife passed away, Sonora Smart Dodd of Spokane, WA, celebrated the first Father's Day in June 1910, the month her father was born. In 1972, President Richard Nixon established a permanent national observance of Father's Day to be held on the third Sunday of June. This year we celebrate Father's Day on June 20. Here are a few ideas of what to do with your family.
The exhibit It's a Hit! A Hometown View of America's National Pastime opens at the Fairfield Museum and History Center just in time for Father's Day. To kick off the show, the museum is offering family-friendly activities including a YMCA-hosted Family Baseball Clinic. Bring a picnic and blanket and watch the father/son or daughter T-Ball game. Registration required. June 20. 1pm. FREE. Fairfield Museum and History Center, 370 Beach Road, Fairfield. 203-259-1598. www.fairfieldhs.org.
Here's a chance to show up your old man. It's the 11th annual Ridgefield Father's Day Run at Ridgefield High School. The event, organized by Boy Scout Troop 431, features two races, a 1 Mile Fun Run and a 5K Run/Walk. June 20. 8am. $30 for both races, $15 for the Fun Run only. Register by June 18. Ridgefield High School, 700 N. Salem Road, Ridgefield. www.troop431.net.
Dad is going to love all the exhibits at Stepping Stones Museum for Children, especially since he gets FREE admission all day. Take him to Healthville or the new Build It! Exhibit - just make sure he doesn't get too dizzy watching the ColorCoaster or too wet at Waterscape. June 20. 10am-5pm. $9, children under 1 FREE. Stepping Stones Museum for Children, Mathews Park, 303 West Avenue, Norwalk. 203-899-0606. www.steppingstonesmuseum.org.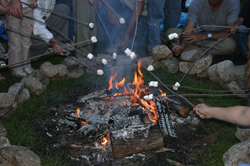 Gather Round the Fire
Take an evening stroll along the meadow trail with butterfly nets and enjoy s'mores at Earthplaces's Friday Family Campfire. June 25, 7:30-9pm. $10. Earthplace, 10 Woodside Lane, Westport. 203-227-7253. www.earthplace.org.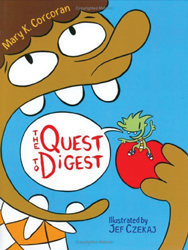 Summer Reading at Stepping Stones

Stepping Stones launches its second annual Summer Reading Journey. Local author March Corcoran, author of The Quest to Digest and The Circulatory Story, plays guitar and tells her stories to teach children how food travels through their bodies. June 26. 2-3pm. $9; free children under 1. Stepping Stones Museum for Children, Mathews Park 303 West Avenue, Norwalk. 203-899-0606. www.steppingstonesmuseum.org.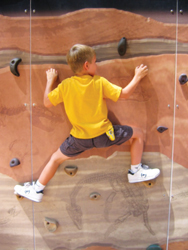 Din-O-Mazing
Travel back in time at Dinosaur Revolution Maze, an exhibit of interactive activities, displays, and fossils. Gather evidence, debunk myths, and learn why dinosaurs were some of the most successful survivors in earth's history.
Open through September 8. Tuesday-Saturday 10am-5pm; Sunday noon-5pm. $8.50; $7 children; free children under 5. Discovery Museum and Planetarium, 4450 Park Avenue, Bridgeport. 203-372-3521. www.discoverymuseum.org.
County Highlights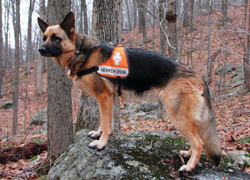 Man's Best Hero
We all know dogs are man's best friend, but they are also capable of tracking down lost humans, as you'll hear in the evening lecture, "Canine Search and Rescue." Cathy Kohut and Chris Clar, of Resources in Search and Rescue, demonstrate a dog's capabilities and the certification requirements of wilderness searches. June 16. 7-8pm. Free. Donations accepted. Beardsley Zoo, 1875 Noble Avenue, Bridgeport. 203- 394-6565. www.beardsleyzoo.org.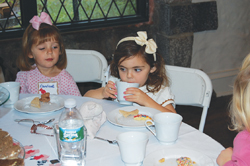 Enjoy a Royal Cup of Tea
Come in costume, bring your own stuffed forest animal, and partake in the festivities at the Kings & Queens of the Forest Tea Party. Create a crown with royal attendants and eat from a tea table laden with refreshments fit for royalty. Walk with a royal escort to see woodland creatures, some of whom will welcome you back to the Mansion where you'll receive a remembrance of the day. Registration required. Space is limited. June 19, 2pm. $55 for one adult and child, $25 each additional family member. Stamford Museum and Nature Center, 39 Scofieldtown Road, Stamford. 203-322-1646. www.stamfordmuseum.org.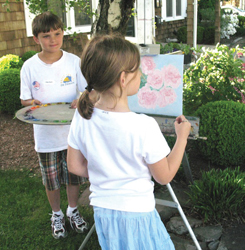 Artists in the Making
Children 8 and older learn how to paint outdoors using an easel at the Children's Plein Air Workshop. The workshop is conducted by Joanne Roy, who says, "Capturing the shapes and colors of the Rowayton landscape, the children will learn how light affects everything they see." Participants can enter their painting for judging during the Art Walk and Show, taking place at 5pm. Saturday, June 19, 10am-1pm. $40. Farm Creek, 34 Sammis Road, Rowayton. 203-866-2744. www.rowaytonartscenter.org.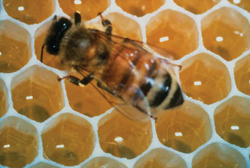 Bzzzzz...
No need to fear bees or wasps! You'll discover this and more at Bees Family Day. Learn about the many different types of bees in our gardens and fields, what they do for us, and where they live. Make a bee hummer and decorate your own paper wasp nest. Learn to do the Waggle Dance. June 26. 11am-4pm. $7; $5 children 1-12. Earthplace, 10 Woodside Lane, Westport. 203-227-2753. www.earthplace.org.
---
Get Your FREE Indoor Activity eGuide!
---
More Recreation/Outings Articles
2010 Nassau Coliseum Fair in Uniondale, NY
DanceAfrica 2011 at BAM: Viva Cuba!
Brooklyn May Calendar Highlights: Family Activities
Spring 2011 Bird Watching Events in Westchester County, NY
Westchester County, NY, May Calendar Highlights: Activities for Families

Be a good fellow parent and share this with a friend who would be interested
Local Recreation/Outings Sponsors
See Our Recreation/Outings Directory