Dr. Gregory Mokotoff of Kids First Dentistry in Fairfield, CT visited Haiti to provide dental care to underprivileged children.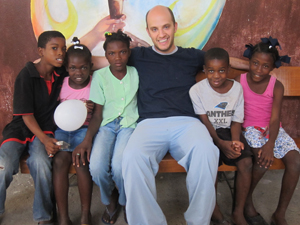 We often take things for granted in our country, like the ability to send our children to school, get them regular physicals, and take them to the dentist. Unfortunately, in Haiti, a majority of the population isn't so lucky. Gregory Mokotoff, DMD, discovered this truth on his recent trip to Cap Haitien, a coastal town of 200,000 people located two hours north of Port-au-Prince.
Dr. Mokotoff, a self-described kid at heart and pediatric dentist who practices at Kids First Dentistry in Fairfield, spent a week in Haiti this April to help children in desperate need of dental care. His visit was arranged through The American Dental Association and the Cap Haitien Dental Institute. While most of the 25 patients he saw daily were children, some were adults. The conditions were less than ideal. He sometimes performed dentistry with the most basic supplies and meager conditions. In one particularly harrowing case, Dr. Mokotoff worked on an 8-year-old boy who couldn't open his mouth more than an inch -- a bad tooth was causing facial swelling and a fever as the infection spread throughout his body. Although oral surgery would have been ideal, not to mention access to electricity and running water, Dr. Mokotoff was able to extract the tooth and get the boy antibiotics.
A team of visiting dental professionals plans to visit the area to follow up with the patients treated by Dr. Mokotoff and the eight other volunteers he worked with. Dr. Mokotoff plans to bring his services to Haiti on a yearly basis and to bring his own children with him once they reach high school.
Dr. Mokotoff resists having his efforts characterized as "heroic." His intentions, he says, were to give back, having realized his own American dream with a happy family life and a fulfilling career. Multiple "thank yous" and hugs were his reward. "I got far more than I gave in the sense that their appreciation made me feel good inside," he says. "So while I was providing them with a [free] service, they were providing me with something back." A smile is worth a thousand words, but in this situation it might be worth even more.