Celebrate summer with these great outdoor family activities in August - bring the kids berry picking, introduce them to some farm animals, or spend a day out at the county fair.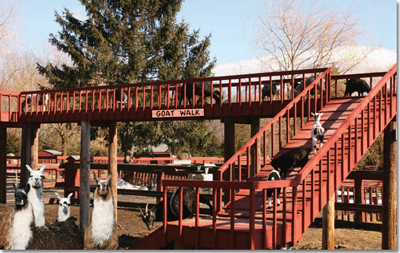 More than ever before, you may feel compelled to teach your children about where their food comes from. Connecticut has plenty of farms to show your kids not only where it comes from but also how to harvest it. Children are sure to appreciate the taste of fruit even more when they've picked it themselves. There are also agricultural fairs where kids have the opportunity to see chickens, pigs and other livestock compete for the blue ribbon. You may have to drive a bit further but it's worth attending. Always call ahead before you go.
At Silverman's Farm, apple picking season is just beginning. They also have a petting and feeding area with buffalo, llamas, sheep, goats, fallow deer, emus, long-horn cattle and exotic birds. Open daily 9am-5pm. Silverman's Farm, 451 Sport Hill Road, Easton. 203-261-3306. www.silvermansfarm.com.
There's no shortage of fruit to pick at Bishop's Orchards. Blueberries, raspberries, peaches, pears and apples are all waiting to be plucked. Monday-Friday 8:30am-1pm; Saturday 8:30am-5pm; Sunday 10am-5pm. Bishops Orchards, 1355 Boston Post Road, Guilford. 203 458-PICK. www.bishopsorchards.com.
At Lyman Orchards, apples are still ripening but blueberries, raspberries and peaches are ready for picking. Check the website for details on their Peach Fest and Clambake, both in August. Lyman Orchards, 32 Reeds Gap Road, Middlefield. 860-349-6015. www.lymanorchards.com.
Take the Berry Ferry to the blueberry patches where you can pick through the end of August. Jones Family Farm, 555 Walnut Tree Hill Road, Shelton. 203-929-8425. www.jonesfamilyfarms.com.
Come to the Bridgewater Country Fair where the livestock are ready for their close-up. Rides, fresh produce, entertainment and games are all part of the three-day event. August 20-22. Friday 4:30-10:30pm; Saturday 9am-8:30pm; Sunday 9am-2:30pm. $8, children under 12 FREE. Bridgewater Country Fair, 100 Main Street South, Bridgewater. 860-354-4730. www.bridgewaterfair.com.
Some of the many events at the Wolcott Country Fair include carnival rides, Robinson's Racing Pigs, Paddling Porkers, chicken hatching, circus acts, concerts, a petting zoo and pony rides. August 20-22. Check the website for times. $5 before 4pm, $7 after; children under 12 FREE. Wolcott Country Fair, Frisbee School Fairgrounds, 24 Todd Road, Wolcott. 203-879-5466. www.wolcottfair.com.
It's worth the trek to Rhinebeck in upstate New York for the annual, six-day Dutchess County Fair. Livestock will be on view but other activities include clowns, dog diving and high diving, marionette shows, racing pigs and more. Check the website for details. August 24- 29. 10am-10pm. $15, 12 and under FREE. Dutchess County Fair, 6550 Spring Brook Avenue, Rhinebeck, New York. 845-876-4000. www.dutchessfair.com.
For even more family activities in Fairfield County, CT, visit our Online Calendar.