This May, Fairfield County hosts family concerts for every musical taste.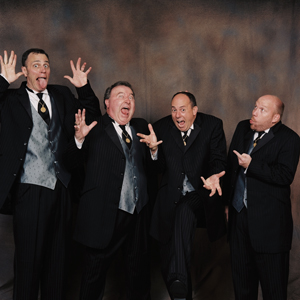 It's never too early to teach your children to appreciate music. In fact, the younger the better, because by the time they reach a certain age, you'll have little influence over the music they listen to. Here are some nearby opportunities this month.
The Quick Center hosts Tony Award-winner Mary Zimmerman, who directs a new production of Rossini's Armida, described as a "buried treasure." Listen to tenors Lawrence Brownlee, Bruce Ford and Jose Manuel. May 1, 1pm and 6pm. $22, $15 children and students. Regina A. Quick Center for the Arts, Fairfield University, 1073 N. Benson Road, Fairfield. 203-254-4010. www.fairfield.edu.
Come to the Tomlinson Middle School to hear a barbershop quartet in Coastal Chordsman Presents Harmony Hi-Jinks to Fairfield. A portion of the evening's proceeds will go to the school's PTA. May 1, 7:30pm. $15. Tomlinson Middle School, 200 Unquowa Road, Fairfield. 203-874-6759. www.coastalchordsmen.org.
Westport Arts Center presents Jazz-Rock Fusion - The Influence of Horn Bands. Brian Torff and the Westport Horns will debut with mixtures of jazz, funk, blues, zydeco, and reggae. May 2, 4pm. $25, $10 students, $5 under 18. Westport Arts Center, 51 Riverside Avenue, Westport. 203-222-7070. www.westportartscenter.org.
Classical harmonica player Robert Bonfiglio performs classical masterworks at the Music for Youth concert. Young people receive a free harmonica and playing instructions. Register for free master classes that follow the concert. May 8, 2pm. FREE. Pequot Library, 720 Pequot Avenue, Southport. 203-259-0346. www.pequotlibrary.org.
The Fairfield County Children's Choir sings patriotic songs to honor active and retired members of the armed forces. May 8, 7pm. $15 and $20. The Fairfield County Children's Choir, 910 Fairfield Avenue, Bridgeport. 203-414-4292. www.SingFCCC.org.
Fans of Nat King Cole can hear The Edward Pleasant Trio play his music and tell his life story at the Westport Library. May 16, 2pm. FREE. Westport Library, 20 Jesup Road, Westport. 203-291-4810. www.westportlibrary.org.
The Children's Ensemble from the Suzuki Music School gives a concert followed by an instrument petting zoo. May 22, 1:30pm. $9, children under 1 FREE. Stepping Stones Museum, Mathews Park, 303 West Avenue, Norwalk. 203-899-0606. www.steppingstonesmuseum.org.
Hear the Greenwich Choral Society perform Verdi's Messa Da Requiem at the Palace Theatre for their last performance of the season. Over 250 performers will be on stage. May 23, 4pm. $28-$42 plus $7 service fee per ticket. Greenwich Choral Society, 61 Atlantic Street, Stamford. 203-325-4466. www.stamfordcenterforthearts.org.
For even more family events and activities in Fairfield County, CT, visit our Online Calendar.