Take advantage of an abundance of fall festivals around the county. They're a great way to transition from the long, hot summer days to the cool, crisp days of autumn.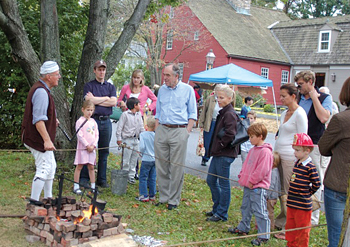 Keep the crows out of the corn! For Earthplace's Scarecrow Making Day, bring old clothes, a hat, and a plastic gallon milk jug. The center provides the rest of the materials, as well as cider and snacks. September 11. 2:30-4:30pm. $10. Earthplace, 10 Woodside Lane, Westport. 203-227-7253. www.earthplace.org.
The Fall Festival at the Fairfield Museum and History Center recreates an old-fashioned marketplace in what is now Fairfield's town green. Visit beekeepers, a schoolhouse, a blacksmith, and vegetable stands. Watch two vintage baseball exhibition games. September 12. 11am. FREE. Fairfield Museum and History Center, 370 Beach Road, Fairfield. 203-259-1598. www.fairfieldhs.org.
Sample the foods of fall at the New Canaan Nature Center's Cider Saturday & Harvest Celebration, where you can make cider, pick and bake apples over the fire, churn butter, and roast corn. September 18. 12pm. $8; free for children under 3. The New Canaan Nature Center, 144 Oenoke Ridge, New Canaan. 203-966-9577. www.newcanaannature.org.
The John Jay Homestead in Katonah, NY, offers two days of events, starting with a Barn Dance featuring live music, swimming pig races, and a barbeque dinner. September 18, 5-9pm. $50-$200; $20-$30 for children. Return the following day for their 18th Annual Homestead Country Fair featuring Revolutionary War re-enactments, sheep and duck herding, pony rides, a magician, Roger the Jester, Benjamin Franklin, and more. September 19, 11am-4pm. $20 per carload. John Jay Homestead, 400 Route 22, Katonah, New York. 914-232-8119. www.johnjayhomestead.org.
The Stamford JCC's Family Sukkot Celebration and Fall Festival has games, hayrides, crafts, and dinner in the Sukkah. September 21, 5-6:30pm. Call for pricing. Stamford JCC, 1035 Newfield Avenue, Stamford. 203-487-0973. www.stamfordjcc.org.
Turn back the clock and head to the Darien Historical Society's Harvest Festival for demonstrations of colonial metal working and wool spinning, children's crafts, the Darien Cooperative Garden display, and a scarecrow-making workshop. September 25. 12-4pm. FREE. Darien Historical Society, 45 Old Kings Highway, Darien. 203-655-9233. www.historical.darien.org.
Quassy Amusement Park chooses September for its 19th Annual Oktoberfest. Enjoy all things German, including music, food, and dancing. September 25-26. 12-6pm. Park admission: $22; $18 for those under 45 inches. Quassy Amusement Park, 2132 Middlebury Road, Middlebury. 203-758-2913. www.quassy.com.
Find even more family-friendly activities in Fairfield County, CT, in our Online Calendar.