See what family-friendly shows are playing this month in Fairfield County, Connecticut.
Storybook Characters Take Center Stage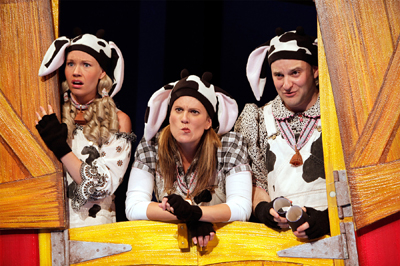 Favorite characters that leap off the pages of children's storybooks are sure to delight kids and, dare we say, encourage them to read even more books. Check out these local productions running this month near you:
Can your kids solve the mystery before Theodore Jones does in Jigsaw Jones, a comical musical based on the series of books by James Preller? Recommended for grades 1-4. March 6, 1pm and 4pm. $15. Westport Country Playhouse, 25 Powers Court, Westport. 203-227-4177.
The Tony Award-winning Cats is based on T. S. Eliot's book, Old Possum's Book of Practical Cats. Andrew Lloyd Weber brought it to Broadway where it played for 18 years, closing in 2000. Now it's here in Connecticut. March 4, 7:30pm; March 5, 2pm and 7:30pm; March 6, 2pm. $15-$72. The Shubert Theater, 247 College Street, New Haven. 203-562-5666.
Margret and H.A. Rey were a husband-and-wife team of writers who fled Paris in 1940 with the manuscript for a curious little monkey named George in their suitcase. All these decades later their character is still popular, and he comes to life at the Stepping Stones Museum for Children's Family Fun Night. The evening offers dinner, activities, a parade, and a visit by Curious George himself. March 18 and 19, 6-8:30pm. $12. Stepping Stones Museum for Children, 303 West Avenue. Norwalk. 203-899-0606.
Bits 'N Pieces Puppet Theatre's adaptation of Hans Christian Anderson's tale The Ugly Duckling tells the story of Pinky, a hot pink Florida flamingo whose parents are polar penguins. Pinky Flamingo learns that you must be yourself to find true happiness. March 19, 11am and 2pm. $15. The Ridgefield Playhouse, 80 East Ridge Street, Ridgefield. 203-438-5795.
Parents and children alike have chuckled at Farmer Brown's frustrations with his farm animals. This musical adaptation of Click Clack Moo is sure to bring on a fresh onslaught of the giggles. March 27, 1pm and 4pm. $15. Westport Country Playhouse, 25 Powers Court, Westport. 203-227-4177.


Also see: Fairfield County, CT, Calendar Highlights: March Family Events
Our Online Calendar, for even more family activities in Fairfield County and the New York metro area