Keep the kids busy during their Presidents' Week break from school with these activities that celebrate nature and the great outdoors at local nature centers and museums in Fairfield County, CT.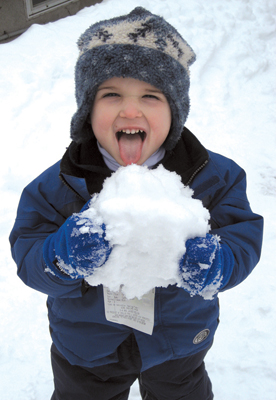 Don't Take a Break from Nature
Kids spend so much time inside during the school year that winter break presents the perfect opportunity to get them outside. Local nature centers and museums are offering activities that are either outdoors or about the outdoors. Many of these programs require pre-registration. Check out this month's calendar for even more ideas.
The Greenwich Audubon Society is offering a Nature Day Camp, where kids can hike, play games, do a craft, and search for winter birds. February 14-18. 9:30am-2:30pm. $65 per day. Greenwich Audubon Society, 613 Riversville Road, Greenwich. 203-869-5272.
The Bruce Museum's Amazing Connecticut Animals is a series of workshops exploring animal adaptations, followed by a related craft. February 15-18. 10:30-11:30am. $7 per day. The Bruce Museum, 1 Museum Drive, Greenwich. 203-869-0376.
Winter Vacation Adventures at the Maritime Aquarium offers kids ages 6-9 the chance to learn something different each day. Topics cover otters, sharks, and the polar world. February 21-25. 9:30am-3:30pm. $85 per day. Maritime Aquarium, 10 North Water Street, Norwalk. 203-852-0700.
Bring toys to play with in the snow, go on a scavenger hunt, make a craft, find out how the animals keep warm, and toast marshmallows by the campfire at Winter Break Out Day. February 21, 11am. Free with gate admission of $10, $5 ages 4-17, FREE under 4. The Stamford Museum and Nature Center, 39 Scofieldtown Road, Stamford. 203-322-1646.
Earthplace's Vacation Fun offers story times, trail walks, animal visits, making nest boxes, and dipping candles. February 22- 25. 10am-4pm. Free with admission of $7, $5 children 1-2. Earthplace, 10 Woodside Lane, Westport. 203-227-7253.
The Winter Break program at the New Canaan Nature Center emphasizes hands-on outdoor activities and educational nature games and crafts related to the season. Themes include winter survival and snow science. February 23-25. 9am-noon; Lunch Bunch 9am-1pm. $60 per day. New Canaan Nature Center, 144 Oenoke Ridge, New Canaan. 203-966-9577.
At the Fairfield Museum and History Center, come to Presidents Week Vacation Camps for a dose of history and crafts that include tinsmithing and quilting. February 21-25. Check the website for times and prices, which vary each day. The Fairfield Museum and History Center, 370 Beach Road, Fairfield. 203-259-1598.
At February Frolic, kids spend the day at Beardsley Zoo getting behind-the-scenes tours, playing games, and making crafts. February 22-24. 9am-12:30pm. $40 per day. Beardsley Zoo, 1875 Noble Avenue, Bridgeport. 203-394-6565.
It's all about animals and how they survive the long winter at Wild Winter Adventures. Expect a day of live animals, crafts, and outdoor activities. February 22-25. 9:30am-12:30pm. $48 per day. Lunch Bunch available. Connecticut Audubon Society Center at Fairfield, 2325 Burr Street, Fairfield. 203-259-6305.