If you have a canine in the family, check out these June activities in Fairfield County, CT, that are both kid-friendly and dog-friendly.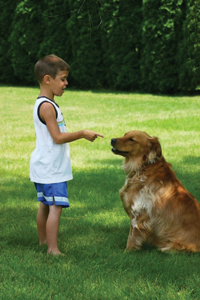 This month there are a few activities centered on the perfect combination: children and dogs. For those of us who feel guilty leaving the dog behind for yet another family activity, there are a multitude of welcoming open spaces in our area where kids and dogs can walk, run, roll, and even swim together. So break out the camera and have some fun!
Stepping Stones has devoted a whole weekend to BooZoo's Canine Carnival. Enjoy a dog agility show, working dogs expo, canine cinema, BooZoo puppets, a pooch parade, and more. Vendors will be on hand to answer your canine questions. June 4-5. 10am-5pm. $12, under 1 FREE. Stepping Stones Museum for Children, Mathews Park, 303 West Avenue, Norwalk, CT.
In Tails & Trails: A Canine Extravaganza, kids participate in a doggie talent showcase and scavenger hunt. They'll bring home a special doggie gift bag. For adults, there are educational resources such as consultations with animal healthcare experts and trainers. June 11. 11am-2pm. FREE. New Canaan Nature Center, 144 Oenoke Ridge, New Canaan, CT.
Studies suggest that trained therapy dogs can help kids feel more comfortable reading aloud and attempting more challenging books. Take advantage of Tales to Tails and have your child read to a Ridgefield Operation Animal Rescue Therapy Dog (ROAR). Registration required. June 25. 11am. FREE. Wilton Public Library, 137 Old Ridgefield Road, Wilton, CT.
In the Dog Fun Directory, you can find a comprehensive listing of parks and trails that are dog-friendly, with a few even allowing dogs to swim. Just be sure to bring your doggie doo doo bags! Check it out at www.ecoanimal.com/dogfun/connecticut.html.
Also see: Celebrate Connecticut Trails Day 2011 with Your Family
Family Activities in Fairfield County, CT: Top Picks for June

Our Online Calendar, for even more upcoming family events in Fairfield and the NYC area