Find fun and low-cost kids' events in Fairfield County, CT this October, including a Buddy Walk in Bethel; a wild show and a classic ballet in Ridgefield; a medieval jest in Wilton; a fall festival in Stamford; Michael Cooper's fun show, a magical performance, and an enchanted fundraiser in Fairfield; a Barnum celebration in Bridgeport; and awesome IMAX films in Norwalk.
Buddy Walk in Bethel
October is Down Syndrome Awareness Month. Join the cause by participating in a Buddy Walk, taking place in Bethel. It is one of 250 such walks taking place around the nation. Proceeds benefit local programs and national advocacy initiatives. October 2 at 12:30pm. $5; $15 per family or group.
Bethel Buddy Walk, 282 Greenwood Avenue, Bethel



See the Wild Kingdom
Wild animals roam the stage at the Ridgefield Playhouse during Mutual of Omaha's Wild Kingdom on October 9, 10am and 1pm. $25; $20 children.
Ridgefield Playhouse, 80 East Ridge Avenue, Ridgefield, CT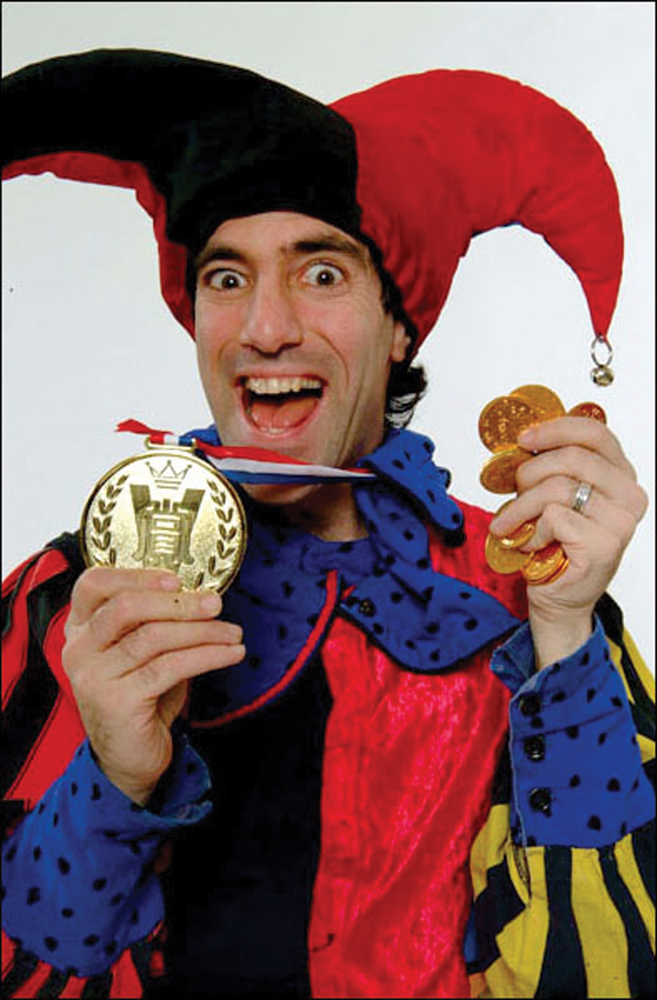 Alex the Jester

Actions speak louder than words in Alex the Jester. Travel back to medieval times for sight gags and stunts, and hear a few words spoken in a foreign tongue called Grammelot. October 12, 6:30-7:30pm. FREE. Registration required.
Wilton Library, 137 Old Ridgefield Road, Wilton
Fall Festival in Stamford
Nothing says autumn like hayrides, apple cider, and scarecrows. At Harvest Festival Weekend, enjoy traditional fall festivities and get into the spirit of the season by wearing a costume and participating in a parade. Other activities include an apple slingshot, farm animal demonstrations, face painting, storytelling, and children's crafts. October 15-16, 11am-3pm. $10 per family.
Stamford Museum and Nature Center, 39 Scofieldtown Road, Stamford
Michael Cooper on Stage
Creative masks, mime, and humor are the hallmark of visual artist Michael Cooper's performances. Catch him in Masked Marvels and Wondertales this month. October 16 at 1pm. $15; $12 children.
Quick Center for the Arts, Fairfield University, 1073 North Benson Road, Fairfield, CT
Barnum Comes Home
It's only fitting to catch Barnum 200 in Bridgeport, where P.T. Barnum lived. This all-new production presents familiar acts that have kicked it up a notch. Watch the Flying Caceras attempt a quadruple somersault on the trapeze, acrobats from China perform feats of dexterity, the strongest man in the world lift more than 1,200 pounds, and much more. Prior to each performance (except for the Friday 11am performance) enjoy free access to performers and animals while learning circus skills. October 20 at 7:30pm; October 21 at 11am and 7:30pm; October 22 at 11am, 3pm, and 7:30pm; October 23 at 1pm and 5pm. $15.25-$95.25.
Webster Bank Arena at Harbor Yard, 600 Main Street, Bridgeport
The Castle Contributes to a Cause
Cinderella, Belle, and Ariel are just some of the characters that greet children at the Burr Homestead's Enchanted Castle, where each room is decorated in a different storybook theme. Proceeds from the event benefit the Ahlbin Rehabilitation center at Bridgeport Hospital, a nonprofit organization that provides care to individuals regardless of their ability to pay. October 21-23, 25, 29-30. Weekdays 4-7pm; weekends 10am-5pm. $5; free children younger than 2.
Burr Homestead, 739 Old Post Road, Fairfield; www.enchantedcastle.org
Damsel in Distress
It's going to take more than just superheroes to save Mother Earth, as you'll learn in Marvel Super Heroes Operation: Green. Spider-Man, Captain American, Iron Man, and the Green Goblin educate kids on the dangers of pollution and what can be done to clean up the environment. October 29, 11am and 1pm. $8. Reserve tickets by calling ext. 2206.
Maritime Aquarium - IMAX Theater, 10 North Water Street, Norwalk
Sleeping Beauty Ballet
Tchaikovsky's Sleeping Beauty tells the story of a handsome prince who, with just a kiss, awakens his princess. Children have the opportunity to see this classic tale as a live ballet performed by the Connecticut Ballet. October 30, 2pm and 4:30pm. $25, $20 children.
Ridgefield Playhouse, 80 East Ridge Avenue, Ridgefield
Accomplishing the Impossible
The Spencers, a husband-and-wife team named International Magicians of the Year, enlist help from the audience in Spencers: Theatre of Illusion. The couple, described as "modern day Houdinis," uses technology, drama, comedy, romance, and suspense while pulling off elaborate stage illusions. There will be a costume contest and treats in honor of Halloween. October 30, 3pm. $25-$35; $15 children ages 11 and younger.
Quick Center for the Arts at Fairfield University, 1073 North Benson Road, Fairfield
Under the Sea in IMAX
To make the documentary Coral Reef Adventure, Howard and Michele Hall spent 10 months creating a cinematic record of the reefs, showing their beauty as well as their decline. Some of the planet's most diverse underwater creatures are on display. Liam Neeson narrates and Crosby, Stills and Nash provide the music. Playing through January 12, 2012. Check website for times. $9; $6.50 ages 2-12.
Maritime Aquarium - IMAX Theater, 10 North Water Street, Norwalk
More Fun
For even more kids events in Fairfield and the NYC area, check out our full Calendar of Events
To get the best events in the NYC area delivered to your inbox each week, sign up for our Activities Newsletter