Related: classes to learn movie stunts, parkour classes by age and skill level, largest parkour gym in northeast,



GCA Parkour & Freerunning is a new gym that recently opened in Fairfield. At this gym, kids can learn how to walk up and flip off walls, jumping, and swinging on bars. The gym is full of trampolines, wooden boxes, steel structures, and spring floors, as well as all the necessary safety equipment.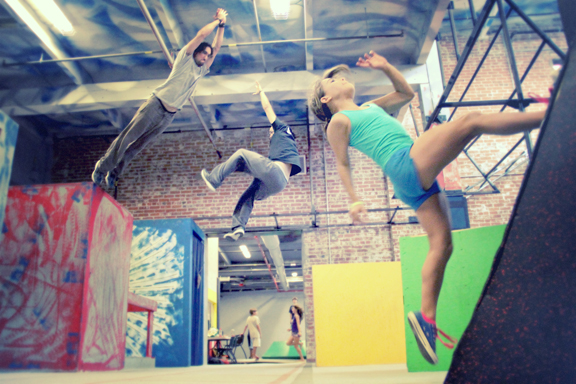 GCA Parkour & Freerunning, a new gym in Fairfield, will not only allow your little daredevil to learn all of the moves and stunts they see in their favorite movies, but they will learn to do so in a safe environment guided by professionals. Parkour is the action of getting from one place to the next while engaging each obstacle in your way—if it's a wall, you walk up it; if it's a large block you jump on and then flip off it. Kids will learn how to do basic jumps, movements, flips off walls, precision jumps, wall walking, and swinging on bars, along with much more. Boys and girls ages 8 and older can take classes daily to develop discipline, balance, strength, and confidence while learning to trust their decisions and better understand their capabilities.

GCA Parkour is the largest parkour gym in the northeast, built to the highest industry standards for safety, with padded walls and columns, foam pits, and carpet-bonded foam floors. Trampolines, wooden boxes, steel structures, and spring floors are all used to practice the various skills.

GCA is run by Jane Marella, director, and Pedro Legrande, assistant director, who brought the program into the gym. The students are separated by age and skill level, and classes are either full-day situations, or three-hour blocks.
---
Get Your FREE Indoor Activity eGuide!
---
More Fitness & Sports Facilities Articles
Martial Arts and Fitness Center Expands Location, Adds Classes
Matchpoint NYC Opens in South Brooklyn
Port Chester Fitness Studio Launches Children's Program
Will2Lose Opens Thornwood Location
New Facility for Youth Boasts 'Teacher of Team Sports'

Be a good fellow parent and share this with a friend who would be interested
Local Fitness & Sports Facilities Sponsors
See Our Fitness & Sports Facilities Directory