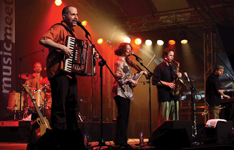 Take a look at some family and kid-friendly Hanukkah events happening in the Fairfield area this holiday season!
Chanukah at the Sound Tigers
Chabad of Fairfield, with co-sponsorship from area synagogues and Jewish institutions, will host a Jewish Community Celebration of Chanukah at the Tuesday, December 15 Sound Tigers Game. Festivities will include the lighting of a huge on-ice Menorah, kosher concessions, performances by synagogue choirs, and Chanukah activities for all ages. December 15 at 7pm. All ages. 18; $7.50 children. Arena at Harbor Yard, 600 Main Street, Bridgeport. www.jccs.org.
Chanukah Community Candle Lighting
Join the JCC of Eastern Fairfield County and Israeli Young Emisaries for a family-friendly community candle lighting event in the lobby of the JCC. Light the menorah, sing songs, and enjoy refreshments. December 16 at 5pm. All ages. FREE. JCC of Eastern Fairfield County, 4200 Park Avenue, Bridgeport. 203-372-6567; www.jccs.org.
The Klezmatics in Concert
Concert featuring holiday and nonholiday Jewish tunes. December 17 at 8pm. All ages. $35. Westport Country Playhouse, 25 Powers Court, off Route 1, Westport. 203-227-4177; www.westportplayhouse.org.
Candy House Workshop
Make edible houses with graham-cracker roofs, peppermint windows, and chocolate chimneys for Christmas, Hanukkah, or just for fun. Pre-registration and pre-payment required. December 19, 1-3:30pm. All ages. $20 per house. Farifield Museum and History Center, Burr Mansion, 739 Old Poast Road, Fairfield. 203-259-1598; [email protected]; www.fairfieldhs.org.
Post-Chanukah Family Fun Day
Jointly sponsored by the JCC and area synagogues and Jewish institutions, everyone is invited to enjoy the many Chanukah-themed activities and programs planned for all ages, including art, sports, swim, gym, food, and stories. December 25, 11am-2pm. All ages. FREE. For more information or to volunteer to help at the event contact Vivian Rockmacher: 203-372-6567, ext. 127 or [email protected] www.jccs.org.